Vente

Meubles & aménagements
Votre assistant d'art personnel
Voulez-vous acheter un objet similaire?
Nous vous informons volontiers si des objets similaire vendus dans une de nos prochaines vente aux enchères.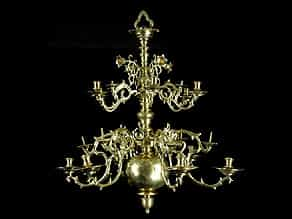 12
Großer Nürnberger Lüster
Mittelstab in Balusterform mit großer abschließender Kugel und herabgeführtem, quer gerilltem Zapfen. Drei Etagen mit eingehängten Armen. Die unteren Arme mehrfach geschweift mit weiten Auffangschalen und im oberen Teil des Armes jeweils hochsteigender Blüte, dazwischen Reflektorblüten. Obere Etage entsprechend gestaltet mit kleinerem Blütendekor, darüber Einsteckring mit vier nach außen weisenden, kelchförmigen Blüten.
Prix de catalogue € 14.000 - 16.000 Prix de catalogue€ 14.000 - 16.000 $ 15,120 - 17,280
£ 12,600 - 14,400
元 104,440 - 119,360
₽ 1,172,640 - 1,340,160
Höhe: 90 cm. Durchmesser: 85 cm.
Nürnberg, 17. Jahrhundert.

Provenienz:
Sammlung Herrmann P. Lockner, Würzburg. Hier ist hinzuweisen auf das vom Sammler veröffentlichte Werk: Herrmann P. Lockner: Messing - ein Handbuch über Messinggerät des 15. - 17. Jahrhunderts, München/Würzburg, 1982. (6618910)
This object has been individually compared to the information in the Art Loss Register data bank and is not registered there as stolen or missing.
Votre assistant d'art personnel
Vous voulez être informé quand dans nos prochaines ventes aux enchères une œuvre d'art similaire sera proposée? Veuillez activer votre assistant d'art personnel.