Votre recherche kaminuhr dans la vente
Meubles & aménagements

vendredi, 8 décembre 2006
Votre assistant d'art personnel
Voulez-vous acheter un objet similaire?
Nous vous informons volontiers si des objets similaire vendus dans une de nos prochaines vente aux enchères.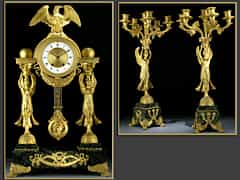 193
Große Kaminuhr Garnitur
Auf Greiffüßen mit Schwingen stehender Marmorsockel mit einem großen, durchbrochen gearbeitetem Bronzebeschlag mit Bogen, Pfeilen und Pfeilköchern sowie Blattgirlandendekor. Auf dem Sockel zwei geflügelte Karyatiden, das Uhrengehäuse tragend. Unterhalb des Gehäuses eine große Fruchtgirlande mit Bändern und Rosetten. Oberhalb des Gehäuses als Bekrönung ein Adler. Acht-Tage-Gehwerk. Pendel mit Pendelfeder und Brokot-Hemmung. Siebenstäbiges Rostpendel. Pendellisene mit Medusenhaar aus feuervergoldeter Bronze. Halbstunden- und Stunden- Schlossscheibenschlagwerk auf Glocke. Guillochiertes Uhrgehäuse. Emailzifferring mit schwarzen römischen Ziffern für die Stunde. Ge-bläute Stahlzeiger im Breguet-Stil. Mittelfeld mit guillochierter Platte.
Prix de catalogue € 15.000 - 18.000 Prix de catalogue€ 15.000 - 18.000 $ 14,850 - 17,820
£ 13,500 - 16,200
元 105,300 - 126,359
₽ 910,500 - 1,092,600
Höhe: 75,5 cm. Breite: 40 cm. Tiefe: 19 cm. Frankreich, 19. Jahrhundert. (641592)
This object has been individually compared to the information in the Art Loss Register data bank and is not registered there as stolen or missing.
Votre assistant d'art personnel
Vous voulez être informé quand dans nos prochaines ventes aux enchères une œuvre d'art similaire sera proposée? Veuillez activer votre assistant d'art personnel.