Vente

Meubles & aménagements
Votre assistant d'art personnel
Voulez-vous acheter un objet similaire?
Nous vous informons volontiers si des objets similaire vendus dans une de nos prochaines vente aux enchères.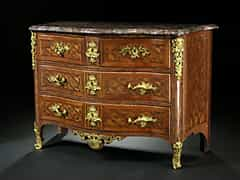 63
Französische Kommode des 18. Jhdts.
Auf kurzen, gebogten Füßen mit aufwendig gearbeiteten und feuervergoldeten Bronzesabots stehendes Möbel. Vier Schübe. Der Korpus nach vorn stark gebogt sowie zur Seite konkav übergehend. Die Ecken abgerundet und unterhalb der Platte mit aufwendigen, durchbrochen gearbeiteten und feuervergoldeten Bronzebeschlägen versehen. Dekorelemente von Delfinen, Blüten- und Muschelmotiven. Die Griffe unterschiedlich gearbeitet in Form von Ästen mit Blattwerk. Die Schlüsselschilder mit Kartuschen in Form von Voluten und Blattwerk. Feuervergoldet, alternierend Matt- und Glanzgold. Die Kommode vollfurniert mit Bandintarsien. Die Zarge mit einer zentralen Schürze versehen, mit Bronzebeschlag. Die Seiten der Kommode konkav verlaufend sowie vollfurniert. Die Marmorplatte rotbraungrau gemasert, passig gebogt und leicht überstehend. Schlösser und Schlüssel vorhanden.
Prix de catalogue € 38.000 - 46.000 Prix de catalogue€ 38.000 - 46.000 $ 41,040 - 49,680
£ 34,200 - 41,400
元 283,480 - 343,160
₽ 3,182,880 - 3,852,960
H.: 88 cm. B.: 130 cm. T.: 65 cm.
Frankreich, um 1740.
(6309617)
This object has been individually compared to the information in the Art Loss Register data bank and is not registered there as stolen or missing.
Votre assistant d'art personnel
Vous voulez être informé quand dans nos prochaines ventes aux enchères une œuvre d'art similaire sera proposée? Veuillez activer votre assistant d'art personnel.