Vente

Objets provenant d'un Cabinet des curiosités
Votre assistant d'art personnel
Voulez-vous acheter un objet similaire?
Nous vous informons volontiers si des objets similaire vendus dans une de nos prochaines vente aux enchères.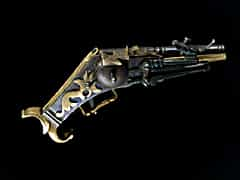 706
Miniatur-Pistole in der Art von Michel Mann
Oktogonaler Lauf aus Eisen in Rund übergehend. Innen liegendes Schloss. Applikationen und Rückseite aus Messing mit Tiergravur. Abzug und Abzugbügel vorhanden. Reste von Bläuung.
L.: 5,8 cm. (62035173)
Prix de catalogue € 5.000 - 6.000 Prix de catalogue€ 5.000 - 6.000 $ 5,400 - 6,480
£ 4,500 - 5,400
元 37,300 - 44,760
₽ 418,800 - 502,560
This object has been individually compared to the information in the Art Loss Register data bank and is not registered there as stolen or missing.
Votre assistant d'art personnel
Vous voulez être informé quand dans nos prochaines ventes aux enchères une œuvre d'art similaire sera proposée? Veuillez activer votre assistant d'art personnel.