Vente

Vente en septembre part II.
Votre assistant d'art personnel
Voulez-vous acheter un objet similaire?
Nous vous informons volontiers si des objets similaire vendus dans une de nos prochaines vente aux enchères.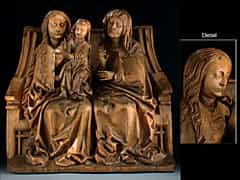 271
Seltene Darstellung des Marien-Thrones mit
Mutter Anna, Maria und Maria Salome
Aus Lindenholz geschnitzte Figurengruppe auf einem breiten Thron dargestellt. Auf der rechten Seite sehen wir Mutter Anna, die Mutter von Maria, mit leicht zur Seite geneigtem Kopf und Kopftuch, die Hände erhoben, als wolle sie die kleine Maria Salome von Maria übernehmen. Auf der anderen Seite des Thrones sitzt Maria mit gewelltem, langem Haar, das über die Schulter weit herabfällt. Mit beiden Händen hält sie die kleine Maria Salome, das dritte Kind von Mutter Anna. Fein und exakt geschnitzte Gesichtszüge aller dreier Figuren und ein durchdachter, reicher Faltenwurf bestimmen die Qualität dieser Figurengruppe. Die Figurengruppe ist rückseitig leicht gehöhlt. Dem Alter entsprechende Beschädigungen mit Wurmspuren und Ergänzungen.
Prix de catalogue € 35.000 - 42.000 Prix de catalogue€ 35.000 - 42.000 $ 37,800 - 45,360
£ 31,500 - 37,800
元 261,100 - 313,320
₽ 2,931,600 - 3,517,920
H.: 61,5 cm. B.: 65 cm.
Deutschland, um 1500.

Anmerkung: Da Anna der Trinubiumslegende zufolge dreimal verheiratet war, sind in anachronistischer Weise auch ihre beiden anderen Männer Kleophas und Salomas in der Darstellung einer heiligen Sippe wiedergegeben. Dargestellt findet man ferner die Töchter, Schwiegersöhne und Enkelkinder Annas. Die Töchter der Heiligen Anna, waren Maria, die Mutter Jesu, sowie Maria Kleophas und Maria Salome. Die drei Frauen werden vielfach als die drei Marien bezeichnet. Maria, die Mutter Jesu, stammt aus der Ehe mit Joachim, dem ersten Mann Annas. Maria Kleophas wurde in der Ehe mit Kleophas geboren, dem zweiten Mann der Heiligen Anna. Mit Salomas, dem dritten Ehemann hatte Anna die Tochter Maria Salome. (590539)
This object has been individually compared to the information in the Art Loss Register data bank and is not registered there as stolen or missing.
Votre assistant d'art personnel
Vous voulez être informé quand dans nos prochaines ventes aux enchères une œuvre d'art similaire sera proposée? Veuillez activer votre assistant d'art personnel.