Votre recherche Max Liebermann dans la vente
Max Liebermann

jeudi, 22 septembre 2005
Votre assistant d'art personnel
Vous êtes intéressé par des œuvres de Max Liebermann?
Nous vous informons volontiers si les œuvres d'art de Max Liebermann vendus dans une de nos prochaines vente aux enchères.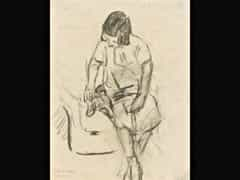 49
Max Liebermann,
1847-1935 Berlin
MARIA, DIE ENKELIN LIEBERMANNS MIT DEM DACKEL NICKI (um 1925)
Prix de catalogue € 3.800 - 4.600 Prix de catalogue€ 3.800 - 4.600 $ 3,952 - 4,784
£ 3,420 - 4,140
元 26,562 - 32,154
₽ 206,340 - 249,780
Kohle auf dünnem Schreibpapier (Wassermarke mit einem geflügelten Rad, darüber (überschnitten): "Man[...] / Schreibm[...]")
20 x 15,5 cm
Bez. links unten (mit Feder): M Liebermann Darunter Sammlerstempel von Franz Jahn (in Blaßbraun): "Sammlung F. J."

MARIA, LIEBERMANNS GRANDDAUGHTER WITH DACHSHUND NICKE (about 1925)

Charcoal on thin writing paper (watermark with winged wheel, overlapped by : "Man […] / Schreibm […]")
7,9 x 6,1 in.
Sign. lower left (with feather): M Liebermann
beneath it Franz Jahn's collector's seal (in light brown): "Sammlung F. J."


Rückseitige Notizen:
Auf der erneuerten rückseitigen Pappe ein Etikett der Galerie Rosenbach, Hannover (getippt): "Max Liebermann / Die Enkelin des Künstlers mit dem Familiendackel" 1882 / Kohlezeichnung / [in rot] 24".

Zustand:
Papier etwas fleckig, Ecke rechts unten geknickt. 6 horizontale parallele Kerben gehen durch Käthes Kopf, als ob jemand eine Gabel darüber gezogen hätte.

Provenienz:
Sammlung Franz Jahn, Berlin (siehe Sammlerstempel in Blaßbraun recto links unten); Galerie Rosenbach (siehe Etikett); Sammlung Hans-Georg Karg, Bad Homburg-Gut Sossau/Gräbenstatt (Ankaufsdaten unbekannt).

Schon Jahrzehnte zuvor hatte Max Liebermann sein Töchterchen Käthe mit dem Familiendackel Männe gezeichnet (z. B. "Das Hündchen wärmt so schön", 1897, siehe Ostwald 1930, Abb. 133 auf S. 271). Hier nun gibt er seine Enkelin (Maria Martha Margarethe, verh. White, Berlin 27.3.1917 - 14.1.1995 New York) mit dem dritten Dackel der Familie, Nicki. Die Zeichnung diente wahrscheinlich als Entwurf zu dem Ölporträt "Enkelin mit Dackel auf dem Schoß" (Eberle 1925/19). Dackel wurden im Hause Max Liebermanns heiß geliebt. Nach Auskunft der Enkelin (Brief an Matthias Eberle vom 17. 10. 1993) gab es nach einander drei davon: Männe, Michel und Nicki. Wie auch aus anderen Bildern hervorgeht, durften sie es sich jeweils in den Sesseln des Hauses bequem machen (vgl. Eberle 1902/9 und 1915/7, wo Männe und Michel in den Stühlen liegen). Hier sieht man, wie Maria sich dicht zu Nicki gesetzt hat, der offensichtlich als erster in dem Sessel Platz genommen hatte. Zärtlich streichelt sie dem Hund über den Kopf, was der sich deutlich gefallen läßt. Mit raschen Strichen hat Max Liebermann diesen intimen Moment zwischen Mensch und Tier festgehalten. (5906093)
This object has been individually compared to the information in the Art Loss Register data bank and is not registered there as stolen or missing.
Votre assistant d'art personnel
Vous voulez être informé quand dans nos prochaines ventes aux enchères une œuvre d'art de Max Liebermann sera proposée? Veuillez activer votre assistant d'art personnel.