Vente

Vente en septembre part I.
Votre assistant d'art personnel
Voulez-vous acheter un objet similaire?
Nous vous informons volontiers si des objets similaire vendus dans une de nos prochaines vente aux enchères.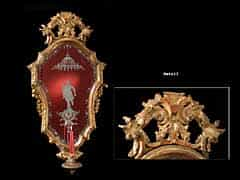 4
Venezianischer Rokoko-Spiegel
Hochformatig, rand mehrfach geschweift oben sich weitend. Rahmen mit Blüten und Blättern beschnitzt und auf rotem Bolus vergoldet. Bekrönung durch einen symmetrischen Volutengiebelaufsatz. Am Unterrand hängende, geschnitzte Maske in Blattform mit eingehängter Kerzentülle. Geschnitzt, gefasst und vergoldet. Spiegelglas, figural beschliffen im Zentrum auf einem Lambrequin-Sockel stehende allegorische nackte Figur der Göttin Pomona mit Füllhorn, darüber hängender Baldachin. Randeinfassung beschliffen mit geometrischen Blüten und verspiegelten Perlvertiefungen. H.: 86 cm. B.: 45 cm. Italien, Anfang 18. Jhdt. (550765)
Prix de catalogue € 2.800 - 3.400 Prix de catalogue€ 2.800 - 3.400 $ 2,772 - 3,366
£ 2,520 - 3,060
元 19,656 - 23,868
₽ 169,960 - 206,380
This object has been individually compared to the information in the Art Loss Register data bank and is not registered there as stolen or missing.
Votre assistant d'art personnel
Vous voulez être informé quand dans nos prochaines ventes aux enchères une œuvre d'art similaire sera proposée? Veuillez activer votre assistant d'art personnel.