Votre recherche Gaspar van Eyck dans la vente
Vente en mars part I.

vendredi, 26 mars 2004
Votre assistant d'art personnel
Vous êtes intéressé par des œuvres de Gaspar van Eyck?
Nous vous informons volontiers si les œuvres d'art de Gaspar van Eyck vendus dans une de nos prochaines vente aux enchères.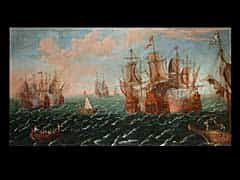 363
Gaspard van Eyck 1613 Antwerpen - 1673 Brüssel, zug.
SEESCHLACHT MIT BAROCKEN SCHIFFEN Auf bewegter See zwei Schiffgruppen zu je drei Schiffen (Kriegskoggen) mit gehißten Segeln und Beflaggung und prächtig gestalteten Heckdekorationen. Mit ausgefahrenen Kanonen jeweils umgeben von Kanonenrauch. Im Hintergrund weitere Gruppe von Schiffen. Im Vordergrund ein Kahn mit Mannschaft. Öl/Lwd. 72,5 x 134 cm. Anmerkung: Zu diesem Gemälde liegt eine Expertise von Prof. Didier Bodart vorliegt. (532392)
Prix de catalogue € 9.000 - 11.000 Prix de catalogue€ 9.000 - 11.000 $ 8,910 - 10,890
£ 8,100 - 9,900
元 63,179 - 77,220
₽ 546,300 - 667,700
This object has been individually compared to the information in the Art Loss Register data bank and is not registered there as stolen or missing.
Votre assistant d'art personnel
Vous voulez être informé quand dans nos prochaines ventes aux enchères une œuvre d'art de Gaspar van Eyck sera proposée? Veuillez activer votre assistant d'art personnel.