Vente

Vente en juin part I.
Votre assistant d'art personnel
Voulez-vous acheter un objet similaire?
Nous vous informons volontiers si des objets similaire vendus dans une de nos prochaines vente aux enchères.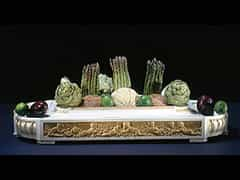 56
Musealer, Berliner Porzellan-Tafelaufsatz
Ein großer und bedeutender Porzellan-Tafelaufsatz bestehend aus zwei großen Säulenpyramiden-Tafelaufsätzen, vier kleinen jardinièren-förmigen länglichen Schalen sowie einer großen zentralen Schale mit Stadtansichten von Rom. Die Beschreibung im Einzelnen: Zwei hohe Tafelaufsätze auf quadratischem Sockel an den Ecken mit Bandüberlappung. Die Flächen mit Puttenfries vergoldet. Akanthusblattmotive auf der zentralen großen Rosette vier kannelierte Säulen mit türkisem Schleifendekor, das die rankenden Blüten- und Blattmotive hält. Nach oben in korinthischen, vergoldeten Kapitellen endend. Der Aufsatz montiert. Als Abschluss eine durchbrochen gearbeitete Schale mit Zweig und Fruchtmotiven in Türkis und Reliefgold. Die vier länglichen jardinièren-artigen Tafelaufsätze ebenso seitlich dekoriert, mit Puttenfriesen und Blütenmotiven vergoldet. Die Seiten mit Löwenkartuschen, Blattfriesen und Ornamenten vergoldet. Der zentrale große Tafelaufsatz mit längsovaler sich zur Mitte hin erhöhender Mulde. Blattvergoldungen, Zopf- und Bandvergoldungen. Seitlich die Friese ebenso wie die anderen Aufsätze mit Putto-, Blatt-, Blüten- und Fruchtmotiven. Darüber eine vergoldete Kartusche mit der Ansicht von Rom, der Engelsburg und dem Petersdom. In Camaieu-Malerei, mit leicht bläulichem Himmel. Auf der anderen Seite in Kartusche eine Landschaftsdarstellung mit Ruinenarchitektur. Höhe des Aufsatzes: 106 cm. B.: 56 cm. Die große Jardinière: H.: 21 cm. B.: 115 cm. T.: 45 cm. Die kleinen Tafelaufsätze: H.: 14 cm. B.: 85 cm. T.: 38 cm. Alle Teile der Porzellanmanufaktur Berlin mit Zeptermarke in Unterglasurblau. Eisenrote KPM-Marke Berlin. Um 1907. Provenienz: Laut Vorbesitzer kommen die Gegenstände aus dem Besitz der Industriellenfamilie Krupp. Literatur: Der einzigartige Tafelaufsatz ist dokumentiert und abgebildet in: Keramische Monatshefte. Nr.8, 1908. Anmerkung: Dieser Tafelaufsatz war in der Berliner Kunstausstellung im Jahr 1907 als Kernstück der Ausstellung vertreten. Die Idee und der Entwurf zu diesem Tafelaufsatz stammt von Prof. A. Kips. Bei diesem Tafelaufsatz ist nicht nur der künstlerische Wert, sondern auch die technische Leistung zur Herstellung und Perfektionierung dieses Aufsatzes zu beachten. Derartige Berliner Tafelaufsätze sind extrem selten. Umso erstaunlicher ist es, dass diese Tafelaufsätze insgesamt komplett unversehrt erhalten geblieben sind. (363231)
Prix de catalogue € 40.000 - 48.000 Prix de catalogue€ 40.000 - 48.000 $ 43,200 - 51,840
£ 36,000 - 43,200
元 298,400 - 358,080
₽ 3,350,400 - 4,020,480
This object has been individually compared to the information in the Art Loss Register data bank and is not registered there as stolen or missing.
Votre assistant d'art personnel
Vous voulez être informé quand dans nos prochaines ventes aux enchères une œuvre d'art similaire sera proposée? Veuillez activer votre assistant d'art personnel.