Vente

Vente en juin part II.
Votre assistant d'art personnel
Voulez-vous acheter un objet similaire?
Nous vous informons volontiers si des objets similaire vendus dans une de nos prochaines vente aux enchères.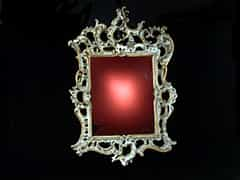 1038
Großer, süddeutscher, geschnitzter und gefasster Rokokospiegel
Spiegelfläche in Rechteckform. Die Rahmung am Spiegelrand durch gerade, profilierte, mittig jeweils durch C-Bogen unterbrochene Profile. Allseitig fortgesetzt durch ein schwungvolles, durchbrochenes Schnitzwerk von Rocaillen. Das obere, bekrönende Schnitzwerk zeigt mehrere C-bogige, miteinander verschlungene Formenbildungen, in asymetrischer Ausprägung des süddeutschen Rokoko. Die oberen Schultern ebenso asymetrisch nach links ausschweifend. Die Mittelornamente der Seitengeraden durch durchbrochene Kartuschenformen gebildet. Nach unten ausschweifend und im unteren Teil durch eine asymetrische Rocaillen abgeschlossen. Seitlich von liegenden S-Bögen flankiert und begleitet. Der gesamte Rahmen in markanter Schnitzarbeit, weiß-grau gefasst. An den Höhungen des Schnitz-Zierrands vergoldet. Der Entwurf dieser Schnitzrahmungen steht auf dem stilistischen Höhepunkt des süddeutschen, bayerischen Rokoko. In der völligen, amorphen Auflösung der Rocaille. H.: 146 cm B.: 102 cm. Süddeutsch, um 1750. (98455)
Prix de catalogue € 8.500 - 10.000 Prix de catalogue€ 8.500 - 10.000 $ 9,180 - 10,800
£ 7,650 - 9,000
元 63,410 - 74,600
₽ 711,960 - 837,600
This object has been individually compared to the information in the Art Loss Register data bank and is not registered there as stolen or missing.
Votre assistant d'art personnel
Vous voulez être informé quand dans nos prochaines ventes aux enchères une œuvre d'art similaire sera proposée? Veuillez activer votre assistant d'art personnel.