Votre assistant d'art personnel
Voulez-vous acheter un objet similaire?
Nous vous informons volontiers si des objets similaire vendus dans une de nos prochaines vente aux enchères.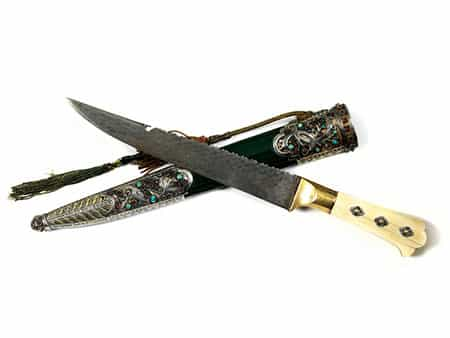 485
Dolch als Zarengeschenk
Länge gesamt: 38 cm.
Die Silbermontierung der Scheide graviert "MANCEAUX A PARIS/ A SA MAJESTÉ L'EMPEREUR DE RUSSIE".
Paris, um 1870.
Prix de catalogue € 9.000 - 12.000 Prix de catalogue€ 9.000 - 12.000 $ 9,450 - 12,600
£ 8,100 - 10,800
元 69,120 - 92,160
₽ 917,460 - 1,223,280
Elfenbeingriff mit Damastklinge mit gezacktem Messerrücken. Scheide in grün gefärbtem Leder mit steinbesetzter Silbermontierung in arabisierendem Stil und altem Bandbehang.

Anmerkung:
Jule Manceaux wird 1838-1872 erwähnt und leitet 1838-1845 die Manufacture national d'armes de Tulle und gleichzeitig seine eigene Manufaktur in Paris. 1854 erhält er ein Patent für eine Laufziehmaschine und 1856 ein Patent für ein Perkussionssystem mit Hinterladung. 1870/ 71 werden einige Waffen dieses Systems für die "Garde Nationale" hergestellt. (1032692) (18)


Dagger as a Tsar gift
Total length: 38 cm.
The silver mounting of the sheath engraved: MANCEAUX A PARIS/ A SA MAJESTÉ L'EMPEREUR DE RUSSIE.
Paris, ca. 1870.
This object has been individually compared to the information in the Art Loss Register data bank and is not registered there as stolen or missing.
Votre assistant d'art personnel
Vous voulez être informé quand dans nos prochaines ventes aux enchères une œuvre d'art similaire sera proposée? Veuillez activer votre assistant d'art personnel.