Vente

Meubles et Aménagements
Votre assistant d'art personnel
Voulez-vous acheter un objet similaire?
Nous vous informons volontiers si des objets similaire vendus dans une de nos prochaines vente aux enchères.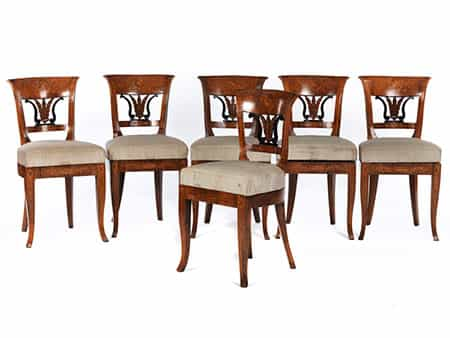 50
Satz von sechs außergewöhnlichen,
klassizistischen Stühlen
Höhe: 84,5 cm.
Breite: 43 cm.
Tiefe: 40,5 cm.
Westdeutschland, um 1800.
Prix de catalogue € 4.500 - 6.500 Prix de catalogue€ 4.500 - 6.500 $ 4,905 - 7,085
£ 4,050 - 5,850
元 35,595 - 51,415
₽ 427,275 - 617,175
Furniert in Mahagoni/ Nussbaum, partiell ebonisiert und brandstiftschattierte Einlagen in Obstholz. Auf säbelförmig gestellten Beinen. Die gerade Sitzfläche zur Rückenlehne hin abgerundet. Die elegant gebogene Rückenlehne mit S-bogigen Streben und Akanthusblattstrebe durchbrochen gearbeitet und dekoriert sowie eingelegt mit feinen Intarsien mit Blütenranken, Medaillonblattrahmen und Büsten im Profil. Die Sitzfläche hochgepolstert. Rest., minimal besch. und Alterssp. (10208234) (12)


Set of six exceptional, neoclassic chairs
Height: 84.5 cm.
Width: 43 cm.
Depth: 40.5 cm.
Western Germany, ca. 1800.

With mahogany and walnut veneer. Partly ebonized with pyrography decorated fruit wood inlays on sabre-shaped legs. Sprung, upholstered seat. Restored, with minimal damage and signs of ageing.
This object has been individually compared to the information in the Art Loss Register data bank and is not registered there as stolen or missing.
Votre assistant d'art personnel
Vous voulez être informé quand dans nos prochaines ventes aux enchères une œuvre d'art similaire sera proposée? Veuillez activer votre assistant d'art personnel.