Votre assistant d'art personnel
Voulez-vous acheter un objet similaire?
Nous vous informons volontiers si des objets similaire vendus dans une de nos prochaines vente aux enchères.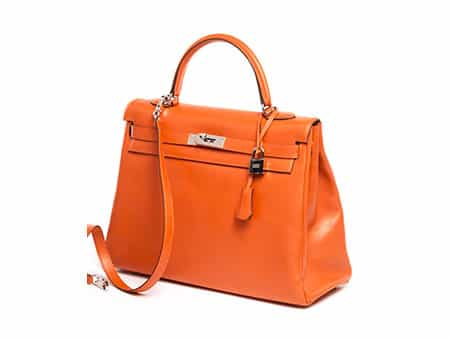 1383
† Hermès Kelly Bag 35 cm "Feu"
Ca. 24 x 35 x 12 cm.
2010.
Prix de catalogue € 6.000 - 8.000 Prix de catalogue€ 6.000 - 8.000 $ 6,480 - 8,640
£ 5,400 - 7,200
元 44,760 - 59,680
₽ 502,560 - 670,080
Rotorangefarbene Swift Lederhandtasche mit Palladiumbeschlägen. Innenraum aus Ziegenleder mit einem Reißverschluss- und zwei Steckfächern. Anbei abnehmbarer Schultergurt, Originalschloss mit Schlüsseln und Clochette, Regenschutz, Staubbeutel, Schutzfilz und Box. Schutzfolie an den vorderen Beschlägen vorhanden. Trockenstempel vorhanden. Exzellenter Zustand, dezente Geprauchssp. an der Unterseite.
Wir garantieren für die Echtheit der Handtasche. (1010455) (19)


Hermès Kelly Bag 35 cm "Feu"
Ca. 24 x 35 x 12 cm.
2010.

A red-orange Swift leather handbag with palladium hardware. Goatskin leather interior with two slip pockets and one zip pocket. Removable shoulder strap, original lock with keys, clochette, rain protector, dust bag, protective felt and box included. Protective film on the front hardware. Blindstamp present. Excellent condition, very slight signs of use on the lower base.
We guarantee the authenticity of the bag.
This object has been individually compared to the information in the Art Loss Register data bank and is not registered there as stolen or missing.
Votre assistant d'art personnel
Vous voulez être informé quand dans nos prochaines ventes aux enchères une œuvre d'art similaire sera proposée? Veuillez activer votre assistant d'art personnel.