Ricerca Edoardo Tofano nell'asta
Dipinti XIX - XX secolo

venerdì, 28 marzo 2014
Il Vostro Art Agent personale
Siete interessati alle opere di Edoardo Tofano?
Volentieri Vi teniamo aggiornati, quando le opere di Edoardo Tofano verranno offerte in una delle nostre prossime aste.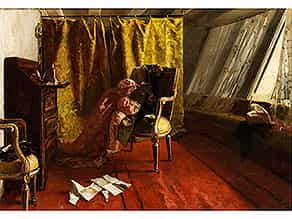 1271
Edoardo Tofano,
1838 Neapel – 1920 Rom
Bedeutender, italienischer Maler des 19. Jahrhunderts, der sich überwiegend den politischen Ereignissen seiner Zeit gewidmet hat, wobei sein Werk - charakteristisch für die Zeit der Spätromantik - auch subjektiv stimmungsvolle Auffassung in die historischen Darstellungen eingebracht hat. Er wirkte im Kreis und auch unter dem Einfluss von Domenico Morelli sowie Giacino Toma. 1878 war er im Pariser Salon vertreten, erlebte einen enormen Erfolg in London und Paris, wo er viele Jahre verbrachte und dort die gehobene, bürgerliche Gesellschaft in seinen Bilder kritisch zum Ausdruck brachte. Die letzten Jahre verbrachte er in Rom.
Prezzo del catalogo € 100.000 - 120.000 Prezzo del catalogo€ 100.000 - 120.000 $ 105,000 - 126,000
£ 90,000 - 108,000
元 768,000 - 921,600
₽ 10,194,000 - 12,232,800
DIE KAPITULATION DER REPUBLIKANER IN NAPOLI Öl auf Leinwand.
32 x 47 cm.

Das Gemälde mit dem Originaltitel "La Capitulazione dei Repubblicani a Napoli" ist im Zusammenhang mit den Ereignissen der napolitanischen Geschichte und dem Untergang der freien Republik Napoli unter Napoleon 1799 zu sehen. Die aufwühlende Stimmung der Zeit ist im vorliegenden Bild durch ein leeres Zimmer wiedergegeben. Gezeigt ist ein Raum mit Mansardenfenster, an der linken Wand eine Schreibkommode, darauf Federkiele, Papiere und eine brennende Kerze, an der Wand ein Offiziersdegen. Im Zentrum des Bildes ein Armlehnsessel vor einem zugezogenen Vorhang im Hintergrund. Links an der Wand ein weiterer Sessel. Am Boden gleichsam Symbol der politischen Situation einige Briefe und zerknüllte Briefblätter. Auf dem Stuhl abgelegt die Uniform eines hochrangigen Politikers der Republik Neapel, gleichsam als Symbol der abgelegten Macht. Rechts am offenen Fenster ein Strohhut, ein Fernrohr, gleichsam als Symbol der unbekannten Zukunft der Republikaner. Die Aussage des Gemäldes muss mit der Auslöschung der Neapolitanischen Republik im Zusammenhang gesehen werden, der sogenanntem Parthenopäischen Republik, die damit geendet hat, dass der britische Flottenbefehlshaber Nelson im Kampf gegen Napoleon die Bucht von Neapel beherrschte und die Republikaner hinrichten ließ. Vor diesem Hintergrund versteht sich die Darstellung des leeren Zimmers als der Moment, nachdem die Republikanerführer abgeholt wurden.

Literatur:
Das Gemälde ist halbseitig abgebildet und besprochen in: Luisa Martorelli, "La Capitolazione dei Repubblicani di Napoli" di Edoardo Tofano, in: Ottocento Verlag, Catalogo dell'Arte Italiana Ottocento - Primo Novencento, N. 41, Metamorfosi, S. 26/ 27.
Luisa Martorelli, "Ricerca Documentaria e Iconografica. Dalla Storiorafia Risorcimentale alle Celebrazioni Post-Unitarie" in: Memorie Storiche della Repubblica Napoletana del´99, Catalogo della Mostra, Napoli 1999, S. 34. (962133)
This object has been individually compared to the information in the Art Loss Register data bank and is not registered there as stolen or missing.
Il Vostro Art Agent personale
Volete essere informati quando nelle nostre prossime aste un'opera di Edoardo Tofano viene offerta? Attivate qui il Vostro Art Agent personale.