Il Vostro Art Agent personale
Volete acquistare un oggetto simile?
Volentieri Vi teniamo aggiornati, quando opere simili verranno offerte in una delle nostre prossime aste.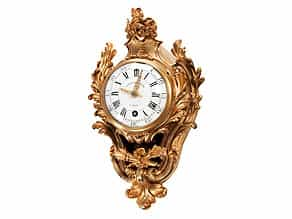 307
Kartelluhr
Höhe: 37 cm.
Frankreich, erste Hälfte 19. Jahrhundert.
Prezzo del catalogo € 4.000 - 6.000 Prezzo del catalogo€ 4.000 - 6.000 $ 4,200 - 6,300
£ 3,600 - 5,400
元 29,320 - 43,980
₽ 264,200 - 396,300
WERK
Achttagegehwerk, Pendel mit Fadenaufhängung, Zugrepetitionswerk auf einer Glocke mit Dreiviertel- und Stundenrechenschlagwerk, die Viertelschläge mit Doppelschlag, die Stundenschläge mit einem Schlag. Auf Rückplatine bezeichnet "Etienne Lenoir à Paris". Nicht selbstschlagend.

FUNKTIONEN
Stunden- und Minutenzeiger, Bronze vergoldet.

GEHÄUSE
Weitgehend in symmetrischem Aufbau, in Bronze und Feuervergoldung. Das Zifferblatt erhaben und mit gewölbter Glasabdeckung, umfangen von seitlich symmetrisch hochziehendem Blattwerk, das aus Voluten hochzieht. Über der Volute und unterhalb des Zifferblattes Schallöffnung mit nach unten herabziehender, dreiteiliger Akanthusblattdekoration. Bekrönung durch plastisch gebildete Rosenblüten mit Blättern.

ZIFFERBLATT
Emailzifferblatt mit römischen und arabischen Ziffern. Im Mittelfeld bezeichnet "Etienne Lenoir à Paris".

ZUSTAND
Gebrauchssp.
Nicht auf Funktionsfähigkeit getestet.
Ein Pendel vorhanden. (9418113)
This object has been individually compared to the information in the Art Loss Register data bank and is not registered there as stolen or missing.
Il Vostro Art Agent personale
Volete essere informati quando nelle nostre prossime aste un'opera d'arte simile viene offerta? Attivate qui il Vostro Art Agent personale.