Aste

Porcellana, argento, cristallo di rocca
Il Vostro Art Agent personale
Volete acquistare un oggetto simile?
Volentieri Vi teniamo aggiornati, quando opere simili verranno offerte in una delle nostre prossime aste.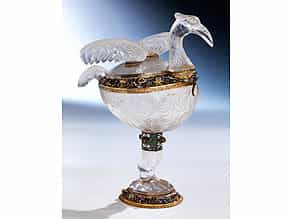 294
Bedeutendes Tischgefäß in Bergkristall und Silber des Wiener Historismus
Höhe: 25 cm.
Länge: 22 cm.
Gepunzt mit Hundekopfpunze mit "A" für Wiener Beschau für 800er Silber (1872 - 1922).
Meistermarke "SG" für Simon Grunewald.
Um 1875.
Prezzo del catalogo € 65.000 - 75.000 Prezzo del catalogo€ 65.000 - 75.000 $ 68,250 - 78,750
£ 58,500 - 67,500
元 476,450 - 549,750
₽ 4,293,250 - 4,953,750
Das Gefäß in Form eines Straußenvogels. Der Vogelkörper, Fuß und Deckel, der die Oberseite des Körpers bildet, mit daraus hochziehenden, geöffneten Flügeln sowie die Schwanzflügel und der Kopf in Bergkristall geschliffen, mit feinem, zum Teil naturalistischem, zum Teil groteskem Feinschliff. Vom Hals zu den Schwanzfedern zieht ein breites, vergoldetes Silberband, appliziert mit emaillierter Rollwerkdekoration und aufgesetzten, gefassten Buntsteinen. Im Dekorband Masken, Vasen und Blütenranken eingespielt, am Halsansatz eine herabhängende, gefasste Flussperle, die Ansatzmontierungen der Flügel in Silber, vergoldet. Entsprechende Dekoration umzieht den Doppelfuß sowie den Basisring, auch hier rote, gefasste Steine zwischen Vasen und Rollwerkblattranken im Rapport. Der Deckel abnehmbar. (9315624)


Significant Viennese rock crystal and silver Centrepiece
Height: 25 cm.
Length: 22 cm.
Country mark 'A' for Vienna (1872 - 1922). Master's mark 'SG' for Simon Grunewald.
Circa 1875.
This object has been individually compared to the information in the Art Loss Register data bank and is not registered there as stolen or missing.
Il Vostro Art Agent personale
Volete essere informati quando nelle nostre prossime aste un'opera d'arte simile viene offerta? Attivate qui il Vostro Art Agent personale.