Il Vostro Art Agent personale
Volete acquistare un oggetto simile?
Volentieri Vi teniamo aggiornati, quando opere simili verranno offerte in una delle nostre prossime aste.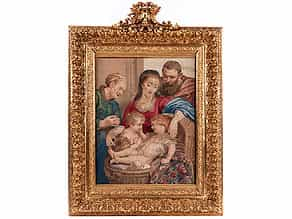 28
Pierre Lefebvre (Fevere),
1579 – 1669
HOCHBEDEUTENDES AUBUSSON-WIRKGEMÄLDE IN PRÄCHTIGEM, HÖFISCHEM RAHMEN
Prezzo del catalogo € 200.000 - 250.000 Prezzo del catalogo€ 200.000 - 250.000 $ 210,000 - 262,500
£ 180,000 - 225,000
元 1,466,000 - 1,832,500
₽ 13,210,000 - 16,512,500
Sichtmaß: 112 x 88 cm.
An der Teppichbordüre die Signatur "P. FEVERE PARIS. II F. FLOR 1652 (Franz Floris?)".

Tapisseriebild in Seide, zeigt das Thema der Heiligen Familie mit dem Johannesknaben und der Heiligen Mutter Anna. Der Stil der Darstellung geht auf einen Rubensschüler zurück, der in Florenz tätig war, Bilder seiner Hand im Palazzo Pitti. Die Darstellung zeigt Maria im Zentrum des Bildes, vor ihr ein korbgeflochtenes Kinderbett, auf dessen Oberteil Maria die Hand gelegt hat. Im Bett auf Kissen und einem Orientteppich das Jesuskind nach rechts liegend, das die Hand liebevoll an den Kopf des Johannesknäbleins gelegt hat, das von links an das Bett herantritt, mit einem Fellstück bekleidet. Rechts im Hintergrund der Heilige Josef, mit Vollbart und kurzem Haupthaar, die Szenerie der Kinder aufmerksam betrachtend. Links die Mutter Anna in grünem Kleid mit einer Haube, die Hände gefaltet. Das textile Bild in Seide gearbeitet, zeigt überraschend gut erhaltene Farbigkeit mit leuchtendem, purpurrotem Kleid der Maria, dem Blau des Manteltuches am Arm, vor allem aber auch in der floralen Bordüre des Orientteppichs, was dem textilen Bild insgesamt einen zusätzlichen Reiz gibt. Die Szenerie von rechts oben beleuchtet. Die rechte, obere Ecke deutet auf einen Fensterausblick, von einem Steinrahmen mit Perlstab eingefasst. Der Gesichtsausdruck der Figuren von höchster Lebendigkeit und psychologischer Aussage. Von besonderem Liebreiz sind die sich begegnenden Blicke der kleinen Kinder, aber auch die beobachtende Mimik der drei dahinterstehenden Figuren. Die äußerst feine Textiltechnik erlaubt die minutiöse Wiedergabe selbst feiner Haarlocken oder der Knotenwiedergabe im Teppich. Reich geschnitzt mit kräftiger Profilinnenleiste mit Akanthusblättern im Rapport. Die Außenrahmung fein in Durchbrechungen und Unterschneidungen geschnitzt, mit gerollten Akanthusblättern und nach innen einziehenden Eichelfrüchten bzw. Blattknospen, dazwischen glatte Hohlkehle. Die Bekrönung zieht beidseitig in Volutenansätzen hoch, wobei zwei stark unterschnittene Akanthusblätter, die sich oben einrollen, das Medici-Wappen einschließen. Seitlich der Akanthusblätter ein Eichenzweig mit Blättern und Eichelfrucht. Textilbild und Rahmen von höchster, höfischer Qualität. Vier weitere Textilbilder dieser Art befinden sich im Palazzo Pitti in Florenz. Insgesamt in tadelloser Erhaltung.

Literatur:
Ausstellungskatalog Semenzato, Venedig, Nachlass Carlo de Carlo, Oktober 2000, Kat.Nr. 145. (931642)


Pierre Lefebvre (Fevere),
1579 – 1669
OUTSTANDING AUBUSSON TAPESTRY IN MAGNIFICENT, COURTLY FRAME
Sight size: 112 x 88 cm.
Along the border of the tapestry a signature reads P. FEVERE PARIS. II F. FLOR 1652 (Franz Floris?).

Silk tapestry depicting Biblical scene of the Holy Family with the Infant Saint John and the Holy Mother Saint Anne. In the manner of a student of Rubens who was active in Florence; paintings in his hand are held at the Palazzo Pitti. The Holy Mary is depicted at the centre of the tapestry, her hand resting on the top half of a basket crib in front of her. The Infant Jesus is lying to the right on a cushion and Oriental rug. His hand is affectionately stretched out to the head of the Infant Saint John, dressed in a fur skin, who steps towards the crib from the left. In the background on the right Saint Joseph, with a beard and short hair, looks on attentively at the scene. To the left, Saint Anne, dressed in a green robe with a veil folds her hands. The colours of the silk tapestry are surprisingly well preserved with the vibrant crimson red dress of the Holy Mary, the blue of her cloak around her arm, and especially in the floral border of the Oriental rug, which in particular displays a fineness of painterly-like detail in the workmanship of this textile. The scene is illuminated from the top right by a light coming from a window, which has a stone bead-and-reel moulded frame. The facial expressions of the individuals emotionally charged: the gaze exchanged by the two children is particularly delightful as are the attentive expressions of the three adults standing behind. The craftsmanship of the textile is such that it allows even for minutely detailed renderings of even the finest ringlet of hair or the knots of the Oriental rug. The frame with a richly carved inner moulding featuring acanthus ornament. The outer frame is elaborately carved with open-work and features acanthus scrolls with acorns or leaf buds alternating with shallow coves. The frame is mounted by ascending volutes, crowned by the coat of arms of the Medici which is clasped by two pierced acanthus leaves on either side with oak branches and acorns. The tapestry and frame are of exquisite, courtly quality. Four further tapestries of this type are held at the Palazzo Pitti in Florence. Overall, the tapestry and frame are in excellent condition.
This object has been individually compared to the information in the Art Loss Register data bank and is not registered there as stolen or missing.
Il Vostro Art Agent personale
Volete essere informati quando nelle nostre prossime aste un'opera d'arte simile viene offerta? Attivate qui il Vostro Art Agent personale.