Aste

Dipinti XVI - XVIII secolo
Il Vostro Art Agent personale
Siete interessati alle opere di Onorio Marinari?
Volentieri Vi teniamo aggiornati, quando le opere di Onorio Marinari verranno offerte in una delle nostre prossime aste.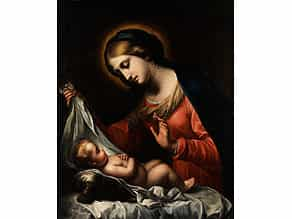 423
Onorio Marinari,
1627 – 1715, zug.
MADONNA MIT DEM KIND Öl auf Leinwand.
93 x 75 cm.
In barockem Rahmen mit Akanthus- und Muscheldekor.
Prezzo del catalogo € 50.000 - 70.000 Prezzo del catalogo€ 50.000 - 70.000 $ 54,000 - 75,600
£ 45,000 - 63,000
元 373,000 - 522,200
₽ 4,188,000 - 5,863,200
Halbbildnis der jugendlich wiedergegebenen Maria, der Oberkörper nach links gerichtet, das Gesicht hell beleuchtet, über dem blond gewellten Haar das blaue Manteltuch, das über die Schultern gelegt ist. Der Kopf eingefasst von einer nimbusscheibenförmigen Strahlengloriole im Sfumato. Mit der rechten Hand hält sie das Tuch hoch, auf dem das Kind nach links liegt, die Hände über den nackten Körper gelegt, die linke Hand der Maria ist behutsam hochgehalten. Das Kind auf einem Kissen mit Unterlaken, die Kissenecke mit schwerer Quaste besetzt. Pastellige, jedoch stark vor dunklem Hintergrund aufleuchtende Farbigkeit insbesondere der Rotfarbe des Kleides im Gegensatz zum Blau und zum bläulichen Weiß des Leinentuches. Von hoher Qualität. (88033101)
This object has been individually compared to the information in the Art Loss Register data bank and is not registered there as stolen or missing.
Il Vostro Art Agent personale
Volete essere informati quando nelle nostre prossime aste un'opera di Onorio Marinari viene offerta? Attivate qui il Vostro Art Agent personale.