Il Vostro Art Agent personale
Volete acquistare un oggetto simile?
Volentieri Vi teniamo aggiornati, quando opere simili verranno offerte in una delle nostre prossime aste.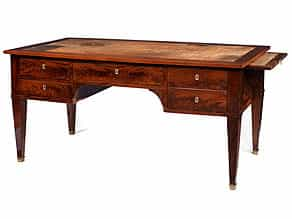 156
Elegantes Empire-Bureau Plat mit Tresorfach
Höhe: 78 cm.
Breite 164 cm.
Tiefe: 74 cm.
Frankreich, frühes 19. Jahrhundert.
Prezzo del catalogo € 6.500 - 8.500 Prezzo del catalogo€ 6.500 - 8.500 $ 7,020 - 9,180
£ 5,850 - 7,650
元 48,490 - 63,410
₽ 544,440 - 711,960
Korpusaufbau in Eiche, mahagonifurniert. Die rechteckige Platte mit breitem Randfurnier, mit eingelegter Lederplatte mit vergoldeter Randverzierung. Die kräftigen Vierkantbeine nach unten sich verjüngend aus den Ecken heraus entwickelt, in der Front zwei seitliche sowie ein breiterer mittlerer Schub oberhalb der seitlich gerundeten Knieeinstellung. Die Schübe in wolkigem Mahagoniwurzelfurnier in Spiegelung verlegt. Schlüsseleinführungen messinggerahmt. Sabots in Form flach würfelförmiger Messingstücke. An der Rückseite furniert und poliert sowie mit Scheinschubläden versehen. Die beiden rechten kleineren Schubfronten zu einem Schub zusammengefasst. Darin versperrbare, furnierte und polierte Abdeckplatte, zurückschiebbar als Tresorfach, mit eigenem Schlüssel. Die originalen Schlösser erhalten. Schlüssel vorhanden. (881575)
This object has been individually compared to the information in the Art Loss Register data bank and is not registered there as stolen or missing.
Il Vostro Art Agent personale
Volete essere informati quando nelle nostre prossime aste un'opera d'arte simile viene offerta? Attivate qui il Vostro Art Agent personale.