Ricerca Giuseppe Recco nell'asta
Dipinti XVI - XVIII secolo

giovedì, 6 dicembre 2012
Il Vostro Art Agent personale
Siete interessati alle opere di Giuseppe Recco?
Volentieri Vi teniamo aggiornati, quando le opere di Giuseppe Recco verranno offerte in una delle nostre prossime aste.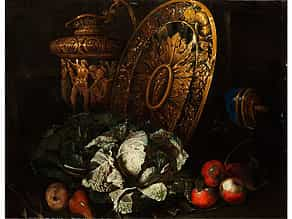 424
Giuseppe Recco,
1634 Neapel – 1695 Alicante, zug.
GROSSES STILLEBEN MIT GOLDENEM PRUNKGESCHIRR, KOHLKOPF UND FRÜCHTEN Öl auf Leinwand. Wachsdoubliert.
69 x 89 cm.
Prezzo del catalogo € 130.000 - 150.000 Prezzo del catalogo€ 130.000 - 150.000 $ 141,700 - 163,500
£ 117,000 - 135,000
元 1,028,300 - 1,186,500
₽ 12,343,500 - 14,242,500
Vor dunklem Hintergrund leuchten ein großer, getriebener Prunkteller auf, daneben eine vergoldete Henkelkanne sowie ein rechts liegendes Deckelgefäß in Gold und Blau. Davor wirkungsvoll beleuchtet ein hellgrüner, ins Aquamaringrau gehender Kohlkopf mit geöffneten Blättern, dessen Farbigkeit sich komplementär zu den stark rot gefärbten Äpfeln in der rechten Ecke kontrastiert. Links unten zwei Birnen. Das Prunkgeschirr ganz im Stil der Silberschmiedearbeiten des 17. Jahrhunderts. Die ovale Platte zeigt einen reliefierten, breiten Festonrand. Im Spiegel ausgelegt die Akanthusblätter mit einer Venusfigur im Zentrum. Die Kanne links daneben mit einem klassischen Figurenfries. (88033190)
This object has been individually compared to the information in the Art Loss Register data bank and is not registered there as stolen or missing.
Il Vostro Art Agent personale
Volete essere informati quando nelle nostre prossime aste un'opera di Giuseppe Recco viene offerta? Attivate qui il Vostro Art Agent personale.