Ricerca majolika nell'asta
Sculture ed Artigianato

giovedì, 20 settembre 2012
Il Vostro Art Agent personale
Volete acquistare un oggetto simile?
Volentieri Vi teniamo aggiornati, quando opere simili verranno offerte in una delle nostre prossime aste.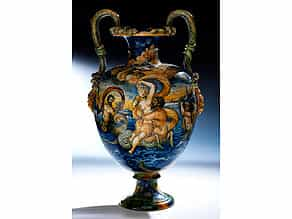 482
Museale, große Majolika-Vase
Höhe: 59 cm.
Casteldurante, nach 1540.
Prezzo del catalogo € 50.000 - 60.000 Prezzo del catalogo€ 50.000 - 60.000 $ 52,500 - 63,000
£ 45,000 - 54,000
元 366,500 - 439,800
₽ 3,302,500 - 3,963,000
Aufbau in Form einer antiken Henkel-Amphore mit eingezogenem Rundfuß, ovaloidem Vasenkörper, zylindrisch hochziehendem Hals mit weiter Halsmündung, an der zwei seitlich hochziehende, zum Teil geflochtene Henkel in Form von Schlangen anliegen. Die Schlangenleiber ziehen beidseitig spiralig am Mündungsrand vor, wobei je zwei Köpfe an Vorder- und Rückseite erscheinen. Die Schwanzspitzen der Schlangen ziehen an den Seiten ebenfalls spiralig über ein männliches, im Relief aufgesetztes Maskaron hinweg. Ganzheitlich bemalt auf weißer Glasur in Blau, Gold-Gelb, Grün, Dunkelocker und Mangan. Die Wandung völlig bedeckt mit umziehender Meereslandschaft, lediglich durch die Masken unterbrochen. An einer Seite antik-mythologische Darstellungen einer Venus Anadyomene. Die Venus, bekleidet mit einem grünfarbenen Tuch, reitet stehend auf dem Rücken zweier Delfine, mit beiden nach links gerichteten Händen hält sie die Zügel, darunter schwebend ein Armorknabe mit hochgestellten, gelb gefärbten Flügeln. Im Hintergrund reicht die Wasseroberfläche bis zum Horizont, an dem das baumbestandene Ufer mit hochziehenden Hügeln zu erkennen ist. Die Wiedergabe der stehenden Figur geht auf Raffaels "Triumph der Galatea" zurück, die 1512 als Fresko in der Villa Farnesina in Rom geschaffen wurde. Die seitenverkehrte Wiedergabe lässt den Schluss zu, dass der Keramikmaler nach einer Stichvorlage gearbeitet hat. Auf der Gegenseite zeigt sich eine mehrfigurige, mythologische Szenerie "Triton raubt eine Nereide". Im Zentrum der fischleibige Triton, der die halbnackte Nereide umfangen hält, seitlich rechts ein Triton-Muschelhorn, links ein weiterer Triton auf der Wasseroberfläche mit hochwehendem Velum. Rest.

Provenienz:
Spencer Collection. (871342)


A Museum Quality Maiolica Vase
Height: 59 cm.
Casteldurante, after 1540.
This object has been individually compared to the information in the Art Loss Register data bank and is not registered there as stolen or missing.
Il Vostro Art Agent personale
Volete essere informati quando nelle nostre prossime aste un'opera d'arte simile viene offerta? Attivate qui il Vostro Art Agent personale.