Il Vostro Art Agent personale
Volete acquistare un oggetto simile?
Volentieri Vi teniamo aggiornati, quando opere simili verranno offerte in una delle nostre prossime aste.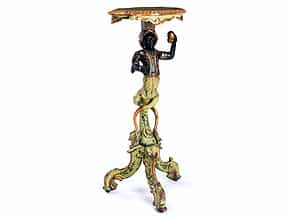 104
Feiner Guéridon in Mohrenform
Höhe: 95 cm.
Breite der Platte: 39 cm.
Tiefe der Platte: 29 cm.
Venedig, 18. Jahrhundert.
Prezzo del catalogo € 12.000 - 15.000 Prezzo del catalogo€ 12.000 - 15.000 $ 12,600 - 15,750
£ 10,800 - 13,500
元 92,160 - 115,200
₽ 1,223,280 - 1,529,100
Wohl Pinienholz fein geschnitzt, polychrom gefasst und mit floralem Dekor verziert, teilebonisiert, teils vergoldet und teilversilbert. Auf dreipassigem, fein geschnitztem Fuß in Rocailleform der daraus erwachsende, ebonisierte Leuchtermohr, teils versilbert, mit stilisiertem Fischschwanz. Abschließende ovale Platte. Rest. Leichte Alterssp. Originale Polychromie. (871679)
This object has been individually compared to the information in the Art Loss Register data bank and is not registered there as stolen or missing.
Il Vostro Art Agent personale
Volete essere informati quando nelle nostre prossime aste un'opera d'arte simile viene offerta? Attivate qui il Vostro Art Agent personale.