Aste

Dipinti XVI - XVIII secolo
Il Vostro Art Agent personale
Siete interessati alle opere di Jacopo Borlone?
Volentieri Vi teniamo aggiornati, quando le opere di Jacopo Borlone verranno offerte in una delle nostre prossime aste.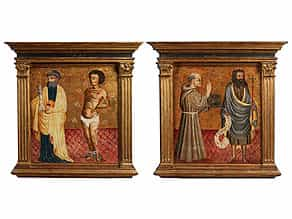 268
Jacopo Borlone
Nachweisbar zwischen 1460 und 1480 im norditalienischen Clusone (Klausen), in der lombardischen Provinz Bergamo tätig.
PAAR ZUSAMMENGEHÖRIGE TAFELBILDER MIT HEILIGENDARSTELLUNGEN Tempera und Goldgrund auf Holz. Parkettiert.
50 x 43 cm.
In vergoldeten Ädikularahmen mit seitlichen, kannelierten Pilastern und geradem Gebälk, (neuzeitlich).
Prezzo del catalogo € 45.000 - 55.000 Prezzo del catalogo€ 45.000 - 55.000 $ 47,250 - 57,750
£ 40,500 - 49,500
元 345,600 - 422,400
₽ 4,587,300 - 5,606,700
Der Heilige Bernhard von Siena und der Heilige Johannes Baptist - im Gegenstück der Heilige Petrus mit dem Heiligen Sebastian. Beide Tafelbilder auf Holz mit punziertem Goldgrund, der jeweils die oberen Zweidrittel der Darstellungfläche einnimmt, darunter ein gemaltes Paviment in Art roter, randgewellter Bodenfliesen. Die Heiligenfiguren stehend dargestellt, der Heilige Bernhard in Mönchskutte mit hellem Strickgürtel, die rechte Hand nach oben gerichtet, in der linken hält er die Bibel mit goldenem Chistusmonogramm in gotischen Lettern, die Figur nach rechts gerichtet, dort barfüßig stehend. Der Heilige Johannes Baptist bärtig wiedergegeben mit schwarzem, lockigem Haar, über das Fellkleid ein blau-grauer Mantel gelegt mit hellem Innenfutter, in der linken Hand hält er den Kreuzstab, in der rechten einen hellen Rotulus mit gotischer Aufschrift "Ecce Agnus Dei...". Im Gegenstück sind die beiden Heiligen jeweils nach links gewandt, zuerst der Heilige Petrus in langem, blauem Kleid mit gelbem, antikem Mantelwurf, in der linken Hand hält er das Buch, in der rechten den Himmelsschlüssel. Der Kopf ist graubärtig wiedergegeben, die Frisur in Art einer gekämmten Fransenbordüre über glatt gekämmtem Scheitel. Rechts daneben der jugendliche Heilige Sebastian, entkleidet bis auf das Lendentuch, mit Pfeilen durchbohrt, das jugendliche Gesicht gerahmt von dunklen Locken, die Hände am Rücken gebunden, ebenso die Füße, wobei hier der Bindestrick sichtbar wird sowie der Sockel einer Martersäule. Die Goldgrundpunzierungen zeigen eine reiche Brokatmusterung, Blattgold auf rotem Bolus. Das Haupt des Heiligen Bernhard mit Nimbusstrahlen umzogen.

Anmerkung:
Wie die beiliegende gutachterliche Dokumentation von Mauro Lucco, datiert "Bazzano, Oktober 2011", mitteilt, sind nur wenige Werke des hier genannten Malers nachweisbar bzw. in der Literatur behandelt. Die Dokumentation nennt einige Vergleichsbeispiele wie etwa "Das Gastmahl in Kanaa" oder "Der Leidensweg Christi", der sich als Innenfresko im Oratorium in Clusone findet, wohingegen die Figur des Johann Baptist mit dem "Pantokrator" oberhalb des Altares im Presbyterium zu vergleichen ist. Die ausführliche Dokumentation nennt mehrere Vergleichsbeispiele und Argumente für die Zuweisung an den genannten Künstler.

Literatur:
L. Tognoli Bardin, Giacomo Borlone e Giaccomo Busca, in: I Pittori Bergamaschi, il Quattrocento, I, Bergamo, 1975, S. 219, Abb. 4, S. 226, Abb. 1 - 3.
L. Cortesi und G. Mandel, Affreschi ai Disciplini di Clusone - Storie di Gesu' (1470 - 1471), Bergamo, 1972, S. 232 - 236. (8605230)


Jacopo Borlone,
verifiable between 1460 and 1480
Tempera on panel with golden ground. Parquetted.
50 x 43 cm.
This object has been individually compared to the information in the Art Loss Register data bank and is not registered there as stolen or missing.
Il Vostro Art Agent personale
Volete essere informati quando nelle nostre prossime aste un'opera di Jacopo Borlone viene offerta? Attivate qui il Vostro Art Agent personale.