Aste

Dipinti XIX - XX secolo
Il Vostro Art Agent personale
Siete interessati alle opere di Eugen Alfons von Blaas?
Volentieri Vi teniamo aggiornati, quando le opere di Eugen Alfons von Blaas verranno offerte in una delle nostre prossime aste.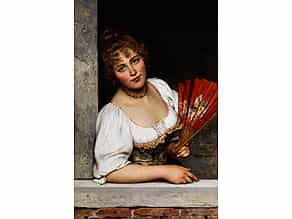 550
Eugen von Blaas,
1843 Albano Laziale - 1932 Venedig
DER ROTE FÄCHER Öl auf Holz.
54 x 35,5 cm.
Rechts unten signiert und datiert "1892".
Prezzo del catalogo € 120.000 - 140.000 Prezzo del catalogo€ 120.000 - 140.000 $ 129,600 - 151,200
£ 108,000 - 126,000
元 895,200 - 1,044,400
₽ 10,051,200 - 11,726,400
Halbbildnis eines blondlockigen, venezianischen Mädchens im steinernen Fensterrahmen, das einen roten, mit Blumen bemalten Fächer in der linken Hand hält. Ihr Blick gilt dem Betrachter, das Haar hochgebunden mit in die Stirn hereinfallenden Locken, in ihrer Festtracht mit weit ausgeschnittenem Hemd und Brokat besticktem Mieder zeigt sie sich mit Goldkette und Creolenohrringen, die Wangen leicht gerötet, die Augen perlmuttfarben mit mildem Blick. Von malerischer Delikatesse ist der hier wiedergegebene Gegensatz zwischen makelloser Schönheit des Mädchens und dem verwitterten Ziegelmauerwerk im Hintergrund sowie am unteren Bildrand. (850003)
This object has been individually compared to the information in the Art Loss Register data bank and is not registered there as stolen or missing.
Il Vostro Art Agent personale
Volete essere informati quando nelle nostre prossime aste un'opera di Eugen Alfons von Blaas viene offerta? Attivate qui il Vostro Art Agent personale.