Aste

Dipinti XIX - XX secolo
Il Vostro Art Agent personale
Siete interessati alle opere di Gaetano Chierici?
Volentieri Vi teniamo aggiornati, quando le opere di Gaetano Chierici verranno offerte in una delle nostre prossime aste.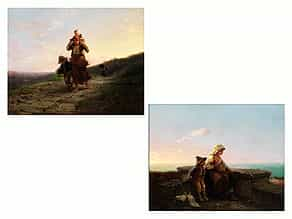 557
Gaetano Chierici,
1838 Reggio Emilia - 1920
Gemäldepaar
JUNGE MUTTER MIT KIND AN DER BRUST UND EINEM KNABEN ZUR RECHTEN SEITE AN EINER UFERMAUER AM STRAND
sowie
JUNGE MUTTER MIT ZWEI KINDERN AUF DEM HEIMWEG
Prezzo del catalogo € 110.000 - 120.000 Prezzo del catalogo€ 110.000 - 120.000 $ 118,800 - 129,600
£ 99,000 - 108,000
元 820,600 - 895,200
₽ 9,213,600 - 10,051,200
Jeweils Öl auf Leinwand. Doubliert.
46 x 58 cm.
Signiert und datiert "1869".

Beide Gemälde in naturalistischer Feinmalerei spätromantischer Prägung. Das erstgenannte Bild zeigt eine nach rechts sitzende Mutter in der typischen Landestracht Neapels mit über den Kopf gelegtem Tuch, das seitlich herabfällt, der Knabe mit geflickten Hosen und kegelförmigem Filzhut blickt in die Ferne, beide erwarten wohl die Rückkehr des Vaters von der Meeresfischerei. Das Gegenstück zeigt eine junge Mutter mit dem kleinen Kind und dem entsprechenden Knäblein auf einem steinigen Hohlweg in hügeliger Landschaft, weiter hinten eine Reisig tragende, alte Frau. Beide Gemälde führen eine romantische Abendstimmung im Spätlicht bei untergehender Sonne vor, die Wolken entsprechend ins Goldfarbene und Rötliche verfärbt, die im Schatten liegenden Geländepartien in äußerst delikater Weise durchgeführt. Die Detailgenauigkeit der Wiedergabe zeigt sich etwa im Glanz des goldenen Creolenohrringes der jungen, am Strand sitzenden Mutter aber auch in der indirekten Beleuchtung ihres Gesichtes und ihres Brustansatzes, an dem das Kind säugend liegt. Der links stehende Korb mit einem Tuch bedeckt, woraus der Hals einer Flasche hervorsteht, ist stillebenhaft aufgefasst, in harmonischer Realistik. Im Gegenstück hat der Maler ebenfalls die Personen ins Gegenlicht gestellt, dennoch indirekt beleuchtet vom seitlich über das Gesicht gestreiften Spätlicht. Detailgenau auch hier einzelne Elemente im Bild wie etwa Reisigbündel in der Schürze der Mutter sowie im Arm des Knaben. (8514046)


Gaetano Chierici,
1838 Reggio Emilia - 1920
A Pair of Paintings
Each in Oil on Canvas. Mounted.
46 x 58 cm.
Signed and dated "1869."

This object has been individually compared to the information in the Art Loss Register data bank and is not registered there as stolen or missing.
Il Vostro Art Agent personale
Volete essere informati quando nelle nostre prossime aste un'opera di Gaetano Chierici viene offerta? Attivate qui il Vostro Art Agent personale.