Aste

Dipinti XIX - XX secolo
Il Vostro Art Agent personale
Siete interessati alle opere di Juan Pablo Salinas y Teruel?
Volentieri Vi teniamo aggiornati, quando le opere di Juan Pablo Salinas y Teruel verranno offerte in una delle nostre prossime aste.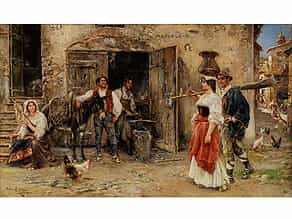 575
Juan Pablo Salinas y Teruel,
1871 Madrid - 1946 Rom
VOR DER SCHMIEDE VON MASCALCIA - DIE DORFSCHÖNHEIT
Prezzo del catalogo € 37.000 - 40.000 Prezzo del catalogo€ 37.000 - 40.000 $ 40,330 - 43,600
£ 33,300 - 36,000
元 292,670 - 316,400
₽ 3,513,150 - 3,798,000
Öl auf Holz.
23 x 40 cm.
Signiert.

Fein ausgeführtes Genrebild, dessen Hauptaugenmerk wohl auf der Wiedergabe der lebendig und psychologisch treffenden Figuren liegt. Im Hintergrund Hauswand einer Schmiede mit Torbogen und geöffnetem, hölzernem Türflügel. Davor der Schmied mit Pfeife im Mund am Amboss, mit Zange und Hammer ein Werkstück schmiedend. Im Hintergrund des Schmiederaumes ist die glühende Esse sichtbar. Links davor steht ein junger Bauer, der seinen rechten Arm auf seinen Esel gestützt hat und auf eine jugendliche Schönheit blickt, die rechts in Begleitung eines jungen Mannes herantritt in schönem, weißem Kleid mit geschnürtem Mieder und roter Schürze, auf dem Kopf ein großes Kupfergefäß. Der junge Mann dahinter trägt eine Kornwürfelschaufel. Die Blicke der Männer gelten der schönen Frau, die die Blicke jedoch nicht erwidert, sondern in stolzem Profil wiedergegeben ist. Im linken Bildteil sitzt an der Steinstufe eine weitere junge Frau mit einem Spinnrocken, die Szene kritisch betrachtend. Im Vordergrund sowie seitlich scharrende Hühner. Rechts hinten Blick in eine Dorfgasse mit weiteren Figuren. Der Maler, der als Kleinmeister des italienischen Realismus des 19. Jahrhunderts gilt, führt hier eine psychologisch aufgefasste Szenerie vor, die die Bewunderung der "Dorfschönheit" zum Thema hat. Überhalb der Flügeltüre an der Hauswand die Bezeichnung "Mascalcia" (ein Ort im Veneto). (8514069)


Juan Pablo Salinas y Teruel,
1871 Madrid - 1946 Rome
Oil on Panel.
23 x 40 cm.
Signed.
This object has been individually compared to the information in the Art Loss Register data bank and is not registered there as stolen or missing.
Il Vostro Art Agent personale
Volete essere informati quando nelle nostre prossime aste un'opera di Juan Pablo Salinas y Teruel viene offerta? Attivate qui il Vostro Art Agent personale.