Aste

Dipinti XIX - XX secolo
Il Vostro Art Agent personale
Siete interessati alle opere di Adolf Chelius?
Volentieri Vi teniamo aggiornati, quando le opere di Adolf Chelius verranno offerte in una delle nostre prossime aste.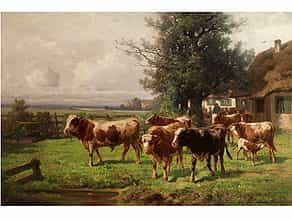 613
Adolf Chelius,
1856 Frankfurt am Main - 1923 München
KUHHERDE BEI DACHAU Öl auf Leinwand.
80,5 x 118 cm.
Rechts unten signiert und ortsbezeichnet "München" und datiert "1919". Verso auf dem Keilrahmen alter, originaler Aufkleber mit Künstlername, Künstleratelieradresse und Bildtitel.
Prezzo del catalogo € 3.000 - 5.000 Prezzo del catalogo€ 3.000 - 5.000 $ 3,270 - 5,450
£ 2,700 - 4,500
元 23,730 - 39,550
₽ 284,850 - 474,750
Großformatiges Landschafts- und Genrebild mit rechts unter Bäumen stehenden, strohbedeckten Dachauer Bauernhäusern. Aus diesem Hof treibt ein Bauer mit einer Magd die Rinderherde auf die Koppelwiese, die Kuhherde angeführt von einem Ochsen, rechts ein säugendes Kälbchen, links hinten Blick in die weite Dachauer Mooslandschaft unter bauschigen Wolken, mit Häusern am Horizont sowie einem im Licht aufleuchtenden Tümpel. (851142)
This object has been individually compared to the information in the Art Loss Register data bank and is not registered there as stolen or missing.
Il Vostro Art Agent personale
Volete essere informati quando nelle nostre prossime aste un'opera di Adolf Chelius viene offerta? Attivate qui il Vostro Art Agent personale.