Ricerca Fernando Botero nell'asta
Arte moderna

venerdì, 23 marzo 2012
Il Vostro Art Agent personale
Siete interessati alle opere di Fernando Botero?
Volentieri Vi teniamo aggiornati, quando le opere di Fernando Botero verranno offerte in una delle nostre prossime aste.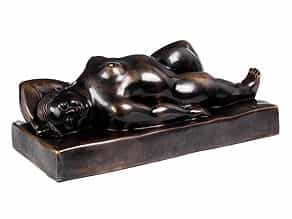 892
Fernando Botero,

1932 Medellín
SCHLAFENDE FRAU Bronzeskulptur.
34 x 30,5 x 52 cm.
Seitlich auf dem Sockel signiert "Botero".
Edition: 1/ 6.
Prezzo del catalogo € 150.000 - 160.000 Prezzo del catalogo€ 150.000 - 160.000 $ 163,500 - 174,400
£ 135,000 - 144,000
元 1,186,500 - 1,265,600
₽ 14,242,500 - 15,192,000
Voluminöse, nackte Frau, den Kopf nach rechts gedreht, das linke Bein und den linken Arm angewinkelt, das rechte Bein und den rechten Arm ausgestreckt, auf einer rechteckigen Plinthe liegend.

Expertise:
Dem Werk ist eine handschriftliche Echtheitsbestätigung des Künstlers beigefügt. (8514058)


Fernando Botero,
1932 Medellín
SLEEPING FEMALE NUDE
Bronze.
34 x 30,5 x 52 cm.
Signed on side of plinth "Botero".
Edition: "1/ 6".

Voluptuous female nude, her head turned to the right, the left leg and arm bent, the right leg and arm laying along her side. The figure on a rectangular plinth.

Expertise:
The work is accompanied by a handwritten certificate of authenticity by the artist.
This object has been individually compared to the information in the Art Loss Register data bank and is not registered there as stolen or missing.
Il Vostro Art Agent personale
Volete essere informati quando nelle nostre prossime aste un'opera di Fernando Botero viene offerta? Attivate qui il Vostro Art Agent personale.