Il Vostro Art Agent personale
Volete acquistare un oggetto simile?
Volentieri Vi teniamo aggiornati, quando opere simili verranno offerte in una delle nostre prossime aste.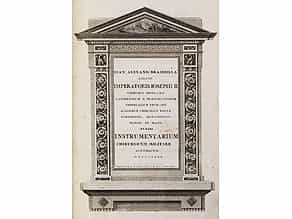 470
67 Kupfertafeln mit medizinischen Instrumenten
Brambilla, Giovanni Alessandro.
Instrumentarium chirurgicum militare Austriacum.
Wien, Schmidt, 1780-82.
Groß-Folio, circa 47 x 31,5 cm.
Gestochener Titel, gest. Widmung, 5 Bll., 160 SS., mit 4 gest. Vignetten, 67 Kupfer-Tafeln Leder d. Zt. (Rücken erneuert).
Prezzo del catalogo € 3.000 - 4.000 Prezzo del catalogo€ 3.000 - 4.000 $ 3,240 - 4,320
£ 2,700 - 3,600
元 22,380 - 29,840
₽ 251,280 - 335,040
Wellcome II, 229. Erste Ausgabe des seinerzeit umfangreichsten Werkes über chirurgische Instrumente von dem Begründer des Wiener Josephinums Brambilla (1728 - 1800), der auch Berater des Kaisers Leopold in gesundheitspolitischen Fragen war. Die Tafeln mit sehr detaillierten Abbildungen und Beschreibungen aller Instrumente, die einem Chirurgen zur Verfügung standen. Papierbedingt etwas gebräunt, wenig fleckig, wenige Blätter mit kleinen Wurmspuren in den Rändern ohne Textverlust. Einband beschabt. (8412013)
This object has been individually compared to the information in the Art Loss Register data bank and is not registered there as stolen or missing.
Il Vostro Art Agent personale
Volete essere informati quando nelle nostre prossime aste un'opera d'arte simile viene offerta? Attivate qui il Vostro Art Agent personale.