Aste

Sculture, Artigianato & oggetti decorativi
Il Vostro Art Agent personale
Volete acquistare un oggetto simile?
Volentieri Vi teniamo aggiornati, quando opere simili verranno offerte in una delle nostre prossime aste.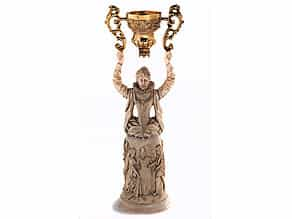 382
Kombinations-Brautbecher
Höhe: 21,6 cm.
Deutschland, zweite Hälfte 19. Jahrhundert.
Prezzo del catalogo € 5.500 - 6.500 Prezzo del catalogo€ 5.500 - 6.500 $ 5,940 - 7,020
£ 4,950 - 5,850
元 41,030 - 48,490
₽ 460,680 - 544,440
Elfenbein geschnitzt, Silber, getrieben, gegossen, vergoldet. Das größere Teilgefäß aus Elfenbein, geschnitzt in Form einer die Arme emporstreckenden weiblichen Person in spanischer Hoftracht. Der Kleidansatz als glatter Bodenring aufsetzend, die untere Hälfte des Kleides mit Heiratsszene im Stil der Renaissance beschnitzt. Dieser Part im umgekehrten Fall als Kuppa dienend. Die Person in Ihren Händen zwei gegenständige Volutengüsse haltend, die eine weitere, eingezogene Kuppa mit Barock-Ornamentik hält, die frei schwenkbar einhängt.

Anmerkung:
Der Legende nach entstand die Form des Brautbechers, als sich die Tochter eines Herzogs in einen Goldschmied verliebte. Als der Herzog hiervon erfuhr, inhaftierte man den Goldschmied und der Herzog knüpfte die Verbindung der beiden an die Aufgabe, ein Gefäß zu schaffen, aus dem zwei Personen gleichzeitig trinken können. Dies gelang dem Goldschmied durch die Erfindung dieses Formstücks.

Historisch gehört der Brautbecher zu den Scherzgefäßen der Renaissance, weshalb sie - auch die Gefäße der zweiten Zeit - Frauen in spanischer Hoftracht mit Halskrausen und Puffärmeln zeigen. (831184)
This object has been individually compared to the information in the Art Loss Register data bank and is not registered there as stolen or missing.
Il Vostro Art Agent personale
Volete essere informati quando nelle nostre prossime aste un'opera d'arte simile viene offerta? Attivate qui il Vostro Art Agent personale.