Aste

Dipinti XVI - XVIII secolo
Il Vostro Art Agent personale
Volete acquistare un oggetto simile?
Volentieri Vi teniamo aggiornati, quando opere simili verranno offerte in una delle nostre prossime aste.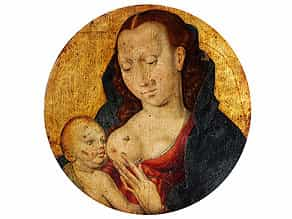 259
Flämischer Meister des 16. Jahrhunderts
MARIA LACTANS Öl/ Tempera auf Eichenholz.
Durchmesser: 29,5 cm.
Im runden, vergoldeten Hohlkehlenrahmen.
Prezzo del catalogo € 3.000 - 4.000 Prezzo del catalogo€ 3.000 - 4.000 $ 3,240 - 4,320
£ 2,700 - 3,600
元 22,380 - 29,840
₽ 251,280 - 335,040
Tondogemälde mit Darstellung der Halbfigur Mariens, das Kind an der Brust. Das rötlich braune Haar wellig über die Schultern geführt mit feinen, in Haarpinseltechnik aufgelegten Lichtern. Der türkisblaue Mantel mit seitlich hochgezogenem Kragen über rotem Kleid, das durch eine feine Kordel gebunden ist. Die Finger der Maria betont überlängt. Die Gesichtszüge mit schmalem Augenschnitt und zart rosafarbenen Lippen anmutig wiedergegeben. Die Figurengruppe vor Goldgrund.(8010492)


Flemish master of the 16th century
Oil/ tempera on oak panel.
This object has been individually compared to the information in the Art Loss Register data bank and is not registered there as stolen or missing.
Il Vostro Art Agent personale
Volete essere informati quando nelle nostre prossime aste un'opera d'arte simile viene offerta? Attivate qui il Vostro Art Agent personale.