Ricerca Fernando Botero nell'asta
Arte moderna & Arte russa

venerdì, 16 settembre 2011
Il Vostro Art Agent personale
Siete interessati alle opere di Fernando Botero?
Volentieri Vi teniamo aggiornati, quando le opere di Fernando Botero verranno offerte in una delle nostre prossime aste.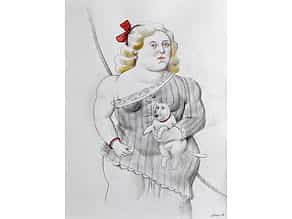 1225
Fernando Botero,
1932 Medellín

ZIRKUSFRAU MIT HUNDBleistift, Gouache und Farbkreide auf Papier.
Sichtmaß: 40,3 x 30,3 cm.
Prezzo del catalogo € 45.000 - 55.000 Prezzo del catalogo€ 45.000 - 55.000 $ 47,250 - 57,750
£ 40,500 - 49,500
元 345,600 - 422,400
₽ 4,587,300 - 5,606,700
Rechts unten signiert und datiert "Botero 08".
Im Passepartout. Verglast und gerahmt.
Stehende, blonde Zirkusartistin, nach rechts blickend, in einem kurzen, gestreiften One-Shoulder Kleid. Unter ihrem linken Arm ein Hund. Das Hundehalsband, ihr Armband und Haarband in roter Farbkreide. Im Hintergrund von links oben nach rechts unten ein Trapezseil. (831301)


Fernando Botero,
1932 Medellín
CIRCUS WOMAN WITH DOG
Pencil, guache and red chalk on paper.
40.3 x 30.3 cm.

Signed and dated lower right: "Botero 08".
Mounted, glazed and framed.


This object has been individually compared to the information in the Art Loss Register data bank and is not registered there as stolen or missing.
Il Vostro Art Agent personale
Volete essere informati quando nelle nostre prossime aste un'opera di Fernando Botero viene offerta? Attivate qui il Vostro Art Agent personale.