Aste

Sculture ed Artigianato
Il Vostro Art Agent personale
Volete acquistare un oggetto simile?
Volentieri Vi teniamo aggiornati, quando opere simili verranno offerte in una delle nostre prossime aste.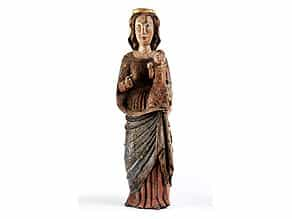 640
Schnitzfigur einer Madonna mit Kind eines oberrheinischen Meisters des 13. Jahrhunderts
Höhe: 104 cm.
Oberrhein, kurz nach 1200.
Prezzo del catalogo € 4.000 - 5.000 Prezzo del catalogo€ 4.000 - 5.000 $ 4,200 - 5,250
£ 3,600 - 4,500
元 30,720 - 38,400
₽ 407,760 - 509,700
Standfigur der Maria, die das Kind in der linken Hand hält, die rechte Hand hervorgestreckt. Kopf frontal ausgerichtet, gerahmt von rhythmisch gewellten und fein geschnitzten Haaren, über die ein Tuch gezogen ist. Darüber ein platter, niedriger Kronreif. Oberteil des Kleides eng anliegend, von der Taille abwärts in parallele, schmale Wulstfalten gelegt, darüber der Mantel mit diagonal nach links unten verlaufenden Faltenzügen. Das Kind in leichter Sitzhaltung, an der Hüfte der Maria ansitzend wiedergegeben, die Füße auf den Mantelsaum gestellt, den die linke Hand der Maria hält. Das Kind in ähnlicher Weise mit oben eng anliegendem Kleid vorgestellt, so dass sich die Kniepartie zu Faltenzügen entwickelt. Die rechte Hand zum Segensgestus erhoben, der linke Arm am Körper anliegend, das Gesicht leicht nach rechts gerichtet mit lächelndem Ausdruck. Die Gesichtszüge der Maria zeigen ein jugendliches Antlitz, schlanke, ovale Gesichtsform mit ausgeprägt wiedergegebenen Lippen, die Augen im Schrägschnitt elegant vorgeführt. Unterer Abschluss der Figur durch bodenaufstehende Gewandung mit parallelen Röhrenfalten, unter denen die Fußspitzen hervortreten. Verso gehöhlt. Altersbedingt ehemaliger Wurmbefall, die originale Fassung in großen Teilen noch erkennbar bzw. behutsam eingestimmt. Insgesamt äußerst anmutige Erscheinung des spätromanisch/ frühgotischen Madonnentypus. (810142)
This object has been individually compared to the information in the Art Loss Register data bank and is not registered there as stolen or missing.
Il Vostro Art Agent personale
Volete essere informati quando nelle nostre prossime aste un'opera d'arte simile viene offerta? Attivate qui il Vostro Art Agent personale.