Ricerca Justus Sustermans nell'asta
Dipinti Vecchi Maestri

venerdì, 25 marzo 2011
Il Vostro Art Agent personale
Siete interessati alle opere di Justus Sustermans?
Volentieri Vi teniamo aggiornati, quando le opere di Justus Sustermans verranno offerte in una delle nostre prossime aste.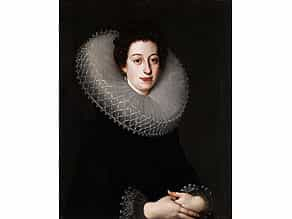 280
Justus Sustermans,
1597 Antwerpen - 1681 Florenz,
zug./ Art des
HOLLÄNDISCHES DAMENPORTRAIT Öl auf Leinwand.
77 x 61 cm.
Verso alte Inventarbezeichnung "R".
Prezzo del catalogo € 4.000 - 4.500 Prezzo del catalogo€ 4.000 - 4.500 $ 3,960 - 4,455
£ 3,600 - 4,050
元 28,080 - 31,589
₽ 242,800 - 273,150
Halbbildnis einer jugendlichen, nach rechts sitzenden Dame in schwarzem Kleid mit breitem Halskragen, die Ärmel mit Spitzen besetzt. Die Kranzdekoration der Halskrause mit Perlen bestickt. Das lockige Haar rahmt das hell beleuchtete Gesicht mit aufmerksamem Blick, der dem Betrachter zugewandt ist. Am Ohr eine weitere große, ovale Barockperle. Die Lippen betont gerötet. Das helle Inkarnat des Gesichtes korrespondiert mit den ineinander genommenen Händen in feiner Malkultur. (811746)
This object has been individually compared to the information in the Art Loss Register data bank and is not registered there as stolen or missing.
Il Vostro Art Agent personale
Volete essere informati quando nelle nostre prossime aste un'opera di Justus Sustermans viene offerta? Attivate qui il Vostro Art Agent personale.