Il Vostro Art Agent personale
Volete acquistare un oggetto simile?
Volentieri Vi teniamo aggiornati, quando opere simili verranno offerte in una delle nostre prossime aste.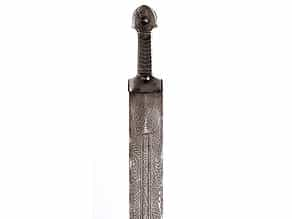 1134
Russisches Ritualschwert
Länge der Klinge: 105 cm.
Breite der Klinge: 8 cm.
Grifflänge: 20 cm.
Russland, 19. Jahrhundert.
Prezzo del catalogo € 12.000 - 14.000 Prezzo del catalogo€ 12.000 - 14.000 $ 12,600 - 14,700
£ 10,800 - 12,600
元 92,160 - 107,520
₽ 1,223,280 - 1,427,160
Ungewöhnlich lange und breite Klinge. Beidseitig angedeutete Blutrinne. Beidseitig damaszierende Dekorelemente. Griff beidseitig mit Horn belegt. Kegelförmige Vernietungsabdeckungen. Griff beidseitig mit Fischgrätdekor. Zugehörige Lederscheide.

Literatur/ Museum:
Vgl. das Schwert in der Sammlung des russischen Museums für Ethnografie, Katalog der Ausgabe von 2006, Kat.Nr. 157 mit Provenienzangabe. Die Maße der Klinge hierin fast identisch, abgebildet mit Dekordetails. (801727)


Russian ritual sword
Length of the blade: 105 cm.
Width of the blade: 8 cm.
Length of the handle: 20 cm.
Russia, 19th century.
This object has been individually compared to the information in the Art Loss Register data bank and is not registered there as stolen or missing.
Il Vostro Art Agent personale
Volete essere informati quando nelle nostre prossime aste un'opera d'arte simile viene offerta? Attivate qui il Vostro Art Agent personale.