Aste

Una collezione privata di oggetti di avorio
Il Vostro Art Agent personale
Volete acquistare un oggetto simile?
Volentieri Vi teniamo aggiornati, quando opere simili verranno offerte in una delle nostre prossime aste.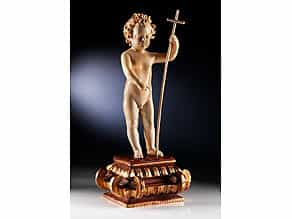 980
Elfenbeinfigur eines stehenden Jesusknäbleins mit Kreuzstab
Höhe der Figur: 33 cm.
Gesamthöhe mit Sockel: 43 cm.
Italien, Ende 18. Jahrhundert.
Prezzo del catalogo € 12.000 - 15.000 Prezzo del catalogo€ 12.000 - 15.000 $ 12,600 - 15,750
£ 10,800 - 13,500
元 92,160 - 115,200
₽ 1,223,280 - 1,529,100
In höchst qualitätvoller Schnitzarbeit, das Knäblein mit rechtem Standbein und nach rechts ausgestelltem Spielbein wiedergegeben. Der Oberkörper leicht nach rechts geneigt, der Kopf gerade, mit ernstem Blick, gerahmt von großen Haarlocken, über der Stirn zu einem lockigen Haarbüschel zusammengeführt. Der rechte Arm nach vorne gerichtet, mit ausgestrecktem Zeigefinger, der linke Arm erhoben und den Kreuzstab haltend. An der Rückseite voll ausgebildet. Im Gegensatz zur geglätteten und polierten Körperoberfläche, die fein modelliert erscheint, zeigen sich die Haare in kräftigen Unterschneidungen auffallend gelockert, was darauf hinweist, dass die Figur auch auf eine Fernansicht hin gestaltet wurde. Die Elfenbeinfigur auf einen barocken, geschnitzten, rot gefassten und teilvergoldeten Sockel gestellt. (8018648)
This object has been individually compared to the information in the Art Loss Register data bank and is not registered there as stolen or missing.
Il Vostro Art Agent personale
Volete essere informati quando nelle nostre prossime aste un'opera d'arte simile viene offerta? Attivate qui il Vostro Art Agent personale.