Aste

Una collezione privata di oggetti di avorio
Il Vostro Art Agent personale
Volete acquistare un oggetto simile?
Volentieri Vi teniamo aggiornati, quando opere simili verranno offerte in una delle nostre prossime aste.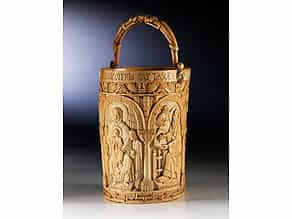 983
Elfenbein-Situla mit Bügelhenkel und Reliefdarstellung der thronenden Maria sowie der vier Evangelisten
Höhe: 18 cm.
Höhe mit aufgestelltem Bügel: 25 cm.
Obere Ovalweite: 13 cm.
Bodenweite: 11 cm.
Prezzo del catalogo € 25.000 - 30.000 Prezzo del catalogo€ 25.000 - 30.000 $ 26,250 - 31,500
£ 22,500 - 27,000
元 192,000 - 230,400
₽ 2,548,500 - 3,058,200
Vorbild ist die sog. Goffredo-Situla im Dommuseum zu Mailand, die für den Anlass des Besuches Kaiser Ottos II. in Mailand im Jahr 980 von einem lombardischen Künstler geschaffen wurde. Die Stilistik weist dementsprechend ottonischen Einfluss auf. Die originalen Situlen dieser Zeit sind von äußerster Seltenheit, nur ganz wenige befinden sich in öffentlichen Sammlungen: die sog. Basilewsky-Situla, ebenfalls ottonisch, um 980, die sich im Besitz Zar Alexander III. befand, jetzt im Victoria und Albert Museum, London. Wohl erst ab dem 18./ 19. Jahrhundert dem musealen Interesse für die frühmittelalterliche Kunst entstanden auch nur in ganz wenigen Fällen Exemplare der vorliegenden Art. Wobei kaum anzunehmen ist, dass es weitere Exemplare im Handel gibt.
Gefäßkorpus der Situla (Weihwassereimer) nach oben leicht konisch sich weitend, am Unterrand eine mäandrierte Dekoration in Art eines Steinquaderverbandes, darüber umlaufend fünf ottonische Rundsäulen mit Blattkapitellen, die fünf Bögen tragen. Im zentralen Bogen Maria mit dem Kind thronend, flankiert von zwei jugendlichen Gestalten mit Gefäßen, die durch hochstehende Flügel im Hintergrund als Engel ausgewiesen sind. In den nach rechts folgenden Bögen die Evangelisten Matthäus, Markus, Lukas und Johannes. In den Bügeln sowie im oberen Rand lateinische Inschriften in Majuskeln. Die Henkel in Form von plastisch geschnitzten Löwenköpfen eingesetzt, der bewegliche Henkel in Form zweier schlanker Bestien, die am oberen Zentrum des Bügels einen menschlichen Kopf ergreifen. Schöne honigbraune Patina. (8018662)
This object has been individually compared to the information in the Art Loss Register data bank and is not registered there as stolen or missing.
Il Vostro Art Agent personale
Volete essere informati quando nelle nostre prossime aste un'opera d'arte simile viene offerta? Attivate qui il Vostro Art Agent personale.