Aste

Una collezione privata di oggetti di avorio
Il Vostro Art Agent personale
Volete acquistare un oggetto simile?
Volentieri Vi teniamo aggiornati, quando opere simili verranno offerte in una delle nostre prossime aste.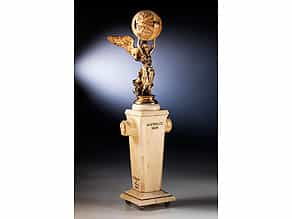 1007
Miniatur- oder Schreibtischdenkmal in Elfenbein und feuervergoldeter Bronze
Gesamthöhe: 35 cm.
Am Sockel seitlich signiert "T. Niquet à Paris 1905".
Prezzo del catalogo € 9.000 - 10.000 Prezzo del catalogo€ 9.000 - 10.000 $ 9,450 - 10,500
£ 8,100 - 9,000
元 69,120 - 76,800
₽ 917,460 - 1,019,400
Zur Erinnerung an die Schlacht bei Austerlitz 1805. Podestsockel nach oben sich leicht weitend, an den Ecken hohlkehlig einziehend. Über quadratischer Sockelbasis, auf vier versilberten Kugelfüßen. An den Sockelseiten vortretende, rund gedrehte Stümpfe mit Portraitmedaillons der Generäle. Auf dem Sockel eine feuervergoldete Gestalt einer Nike auf runder Basis mit hochgestellten Flügeln und wehendem Gewand, in den hochgehaltenen Armen eine Elfenbeinkugel haltend, die sich zu einem Triptychon öffnen lässt. Darin im Zentrum Reliefdarstellung Napoleons zu Pferde auf dem Schlachtfeld mit einem auf dem Boden liegenden Verwundeten. Seitlich Kanonenlafetten, in den Seitenbildern Kanoniere und Uniformierte. Das Äußere der Kugel ornamental beschnitzt. (8018622)
This object has been individually compared to the information in the Art Loss Register data bank and is not registered there as stolen or missing.
Il Vostro Art Agent personale
Volete essere informati quando nelle nostre prossime aste un'opera d'arte simile viene offerta? Attivate qui il Vostro Art Agent personale.