Aste

Una collezione privata
Il Vostro Art Agent personale
Volete acquistare un oggetto simile?
Volentieri Vi teniamo aggiornati, quando opere simili verranno offerte in una delle nostre prossime aste.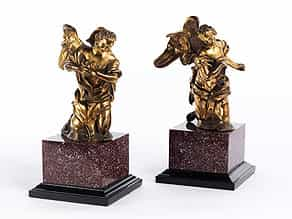 800
Paar italienische Bronzeengel in Feuervergoldung
Höhe der Figuren: je 17,5 cm.
Höhe der Sockel: 10 cm.
Sockelbasis: 13,5 x 13 cm.
Rom, 17. Jahrhundert.
Prezzo del catalogo € 13.000 - 15.000 Prezzo del catalogo€ 13.000 - 15.000 $ 13,650 - 15,750
£ 11,700 - 13,500
元 99,840 - 115,200
₽ 1,325,220 - 1,529,100
Als Gegenstücke gearbeitet, jeweils auf Wolkenbank kniend, Oberkörper stark nach vorne geneigt, einer der Engel hat beide Hände an die Brust geführt, der andere hält eine Hand an die Brust, in der anderen Hand einen Gegenstand (wohl Lilie) haltend. Jeweils auf Porphyrsockel gestellt. (8010443)


Pair of Italian bronze angels in fire gilding
Height of the figures: each 17.5 cm.
Rome, 17th century.
This object has been individually compared to the information in the Art Loss Register data bank and is not registered there as stolen or missing.
Il Vostro Art Agent personale
Volete essere informati quando nelle nostre prossime aste un'opera d'arte simile viene offerta? Attivate qui il Vostro Art Agent personale.