Ricerca Jakob Emanuel Gaisser nell'asta
Dipinti XIX - XX secolo

venerdì, 3 dicembre 2010
Il Vostro Art Agent personale
Siete interessati alle opere di Jakob Emanuel Gaisser?
Volentieri Vi teniamo aggiornati, quando le opere di Jakob Emanuel Gaisser verranno offerte in una delle nostre prossime aste.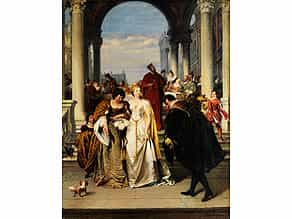 560
Jakob Emanuel Gaisser,
1825 Augsburg - 1899 München
Schüler der Münchner Akademie bei Julius Schnorr von Carolsfeld wie Clemens Zimmermann. Stellte ab 1867 im Kunstverein aus. Bilder seiner Hand in mehreren Museen wie Mainz, Rostock, Chemnitz sowie in der Maillinger-Sammlung in München. Spezialisierte sich auf das Historien-Kostümbild.
Prezzo del catalogo € 15.000 - 18.000 Prezzo del catalogo€ 15.000 - 18.000 $ 16,200 - 19,440
£ 13,500 - 16,200
元 111,900 - 134,280
₽ 1,256,400 - 1,507,680
DIE BEGRÜSSUNG Öl auf Leinwand.
92 cm x 70 cm.
Rechts unten signiert.

In einem dunklen Umhang gekleideter Herr mit Degen verbeugt sich in Begrüßung einer jungen adeligen Dame in weißem Kleid, die das Zentrum des Gemäldes bildet. Sie wird von einer älteren Dame an der Hand geführt, die den Gruß erwidert. Im Hintergrund ein Knabe, der die Schleppe trägt. Die Szene vor einem Bankett im Bogen einer Loggia mit mehreren hochrangigen Gästen mit Weingläsern. Vor dem Tisch ein Kardinal, rechts ein Knabe, der eine Fruchtschale hereinträgt. Im Hintergrund imposante Palastarchitektur mit Säulen. Bei der Darstellung mag es sich vielleicht um ein bestimmtes historisches Ereignis aus der italienischen Geschichte handeln evtl. auch Thema eines, in der Zeit des ausgehenden 19. Jahrhunderts so beliebten Dramenstoffes. (802131)


Jakob Emanuel Gaisser,
Augsburg 1825 - Munich 1899
Oil on canvas.
92 x 70 cm.
Signed at the lower right.
This object has been individually compared to the information in the Art Loss Register data bank and is not registered there as stolen or missing.
Il Vostro Art Agent personale
Volete essere informati quando nelle nostre prossime aste un'opera di Jakob Emanuel Gaisser viene offerta? Attivate qui il Vostro Art Agent personale.