Ricerca Eduard von Grützner nell'asta
Dipinti XIX - XX secolo

venerdì, 3 dicembre 2010
Il Vostro Art Agent personale
Siete interessati alle opere di Eduard von Grützner?
Volentieri Vi teniamo aggiornati, quando le opere di Eduard von Grützner verranno offerte in una delle nostre prossime aste.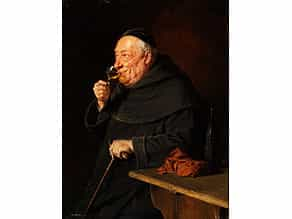 398
Eduard von Grützner,
1846 Großkarlowitz - 1925 München
BENEDIKTINER-MÖNCH MIT WEIN BEIM FRÜHSCHOPPEN Öl auf Holz.
33 x 25 cm.
Rechts oben signiert.
Prezzo del catalogo € 6.000 - 8.000 Prezzo del catalogo€ 6.000 - 8.000 $ 5,940 - 7,920
£ 5,400 - 7,200
元 42,120 - 56,160
₽ 364,200 - 485,600
Dreiviertelfigur, der Mönch in schwarzer, leicht abgeschabter Arbeitskutte, an einen Holztisch gelehnt, mit einem Spazierstock, dessen Griff zu einer heiteren Maske geschnitzt ist. Auf dem Tisch Weinflasche und rotes Schnupftuch. Genüsslich zieht er sich den edlen Tropfen des Weißweins ein. Mit glasigem Blick nach oben. Das hell beleuchtete, schmunzelnde Gesicht des Alten wirkungsvoll vor dunklem Hintergrund. (801561)

Literatur:
Original dieses Gemälde ist abgebildet im Werkverzeichnis von Laszlo Balogh, S. 184, Nr. 188.


Eduard von Grützner,
Großkarlowitz 1846 - Munich 1925
Oil on panel.
33 x 25 cm.
Signed at the upper right.

Literature:
Illustrated in the catalogue raisonné by Laszlo Balogh, p. 184, No. 188.
This object has been individually compared to the information in the Art Loss Register data bank and is not registered there as stolen or missing.
Il Vostro Art Agent personale
Volete essere informati quando nelle nostre prossime aste un'opera di Eduard von Grützner viene offerta? Attivate qui il Vostro Art Agent personale.