Aste

Una collezione privata di dipinti
Il Vostro Art Agent personale
Volete acquistare un oggetto simile?
Volentieri Vi teniamo aggiornati, quando opere simili verranno offerte in una delle nostre prossime aste.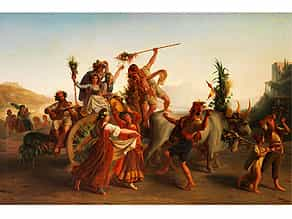 384
Maler des 19. Jahrhunderts nach Léopold-Louis Robert, 1794 - 1835
NEAPOLETANISCHER FESTZUG (DIE PILGERFAHRT ZUR MADONNA DELL'ARCO) Öl auf Leinwand.
142 x 216 cm.
Rechts schwer entzifferbar signiert "E. Accard" und datiert "1857".
Kopie nach dem Gemälde von Léopold-Louis Robert von 1827, das sich im Pariser Louvre befindet.
Prezzo del catalogo € 110.000 - 140.000 Prezzo del catalogo€ 110.000 - 140.000 $ 115,500 - 147,000
£ 99,000 - 126,000
元 806,300 - 1,026,200
₽ 7,265,500 - 9,247,000
Ochsenkarren, reich mit Blumen geschmückt, darauf singendes Volk mit Kindern, davor tanzende Mädchen und ein Mandolinespieler. Im Vordergrund ein tanzender Neapolitaner mit Kastagnetten, daneben eine Tamburinspielerin. Den Zug führen zwei Knaben an, einer mit einem Rhythmusinstrument. (7801032)
This object has been individually compared to the information in the Art Loss Register data bank and is not registered there as stolen or missing.
Il Vostro Art Agent personale
Volete essere informati quando nelle nostre prossime aste un'opera d'arte simile viene offerta? Attivate qui il Vostro Art Agent personale.