Ricerca Gaspar Peeter Verbruggen d. J. nell'asta
Dipinti XVI - XVIII secolo

venerdì, 26 giugno 2009
Il Vostro Art Agent personale
Siete interessati alle opere di Gaspar Peeter Verbruggen d. J.?
Volentieri Vi teniamo aggiornati, quando le opere di Gaspar Peeter Verbruggen d. J. verranno offerte in una delle nostre prossime aste.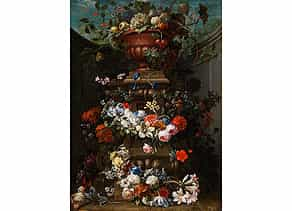 259
Gaspar Pieter Verbruggen,
1664 Antwerpen - 1730 Antwerpen, zug.
BLUMENSTILLEBEN MIT VASE AUF EINEM STEINÖl auf Leinwand.
38 x 28 cm.
Links unten auf dem Stein monogrammiert "PVB".
Prezzo del catalogo € 25.000 - 30.000 Prezzo del catalogo€ 25.000 - 30.000 $ 27,250 - 32,700
£ 22,500 - 27,000
元 197,750 - 237,300
₽ 2,373,750 - 2,848,500
Das Blumenarrangement geschickt in Form von zusammenhängenden Blütengirlanden aufgebaut, die um ein barockes Steinpodest gelegt sind. Der Steinpfeiler in Voluten nach oben sich verjüngend, darauf große, godronnierte Kupfervase vor einer Exedra. Die Vase gefüllt mit hellen und dunklen Trauben, Birnen, Aprikosen, Pfirsichen und anderen Früchten, die teilweise noch an Zweigen herabhängen, am Steinboden weitere Blüten. In typisch barocker Manier stellt das Blumen- und Früchte-Stilleben einen Idealzustand dar, in dem Frühlings-, Sommer-, Herbstblüten und -früchte zusammengeführt werden. Von besonders delikater Wirkung ist das Blau einzelner Blüten wie Anemonen, Kornblumen und Königswinden, das sich aus der zarten Buntheit der übrigen Blüten hervorhebt.

Literatur:
J. de Maere & M. Wabbes, Illustrated Dictionary of the 17th Century Flemish Painters, Bd. L-Z, Brüssel 1994, S. 1214f.
Thieme-Becker, Künstler-Lexikon, Bd. XXXIV, Leipzig 1978, S. 228.
C. Grimm, Stilleben, die niederländischen und deutschen Meister, Stuttgart/ Zürich 1993, S. 48, Abb. K. (740244)
This object has been individually compared to the information in the Art Loss Register data bank and is not registered there as stolen or missing.
Il Vostro Art Agent personale
Volete essere informati quando nelle nostre prossime aste un'opera di Gaspar Peeter Verbruggen d. J. viene offerta? Attivate qui il Vostro Art Agent personale.