Il Vostro Art Agent personale
Volete acquistare un oggetto simile?
Volentieri Vi teniamo aggiornati, quando opere simili verranno offerte in una delle nostre prossime aste.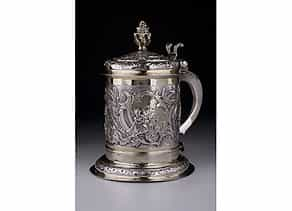 701
St. Petersburger Deckel-Humpen
Höhe: 24 cm.
Russland, St. Petersburg, um 1760.
Meister: Johann Gottfried Hildebrandt.
Prezzo del catalogo € 17.000 - 19.000 Prezzo del catalogo€ 17.000 - 19.000 $ 16,830 - 18,810
£ 15,300 - 17,100
元 119,340 - 133,380
₽ 1,031,900 - 1,153,300
Silberhumpen mit Teilvergoldung, getrieben, graviert und punziert. Umlaufender Dekor der zylindrischen Wandung mit Rocaillen, Blatt- und Astwerk sowie Vogeldekor, Kartuschen und zentraler Darstellung einer Chinoiserie. Seitlich am Griff fein ausgearbeitete Vogeldekore. Der Fußrand mit Blattmotiven, der Deckel mit Fruchtdekoren, Kartuschen und Rocaillen. Als Abschluss nach oben ein durchbrochen gearbeiteter Knauf. V-förmige Daumenrast. Der Henkel in ein Wappenschild endend. (7006031)

This object has been individually compared to the information in the Art Loss Register data bank and is not registered there as stolen or missing.
Il Vostro Art Agent personale
Volete essere informati quando nelle nostre prossime aste un'opera d'arte simile viene offerta? Attivate qui il Vostro Art Agent personale.