Il Vostro Art Agent personale
Siete interessati alle opere di Jacob de Gruyter?
Volentieri Vi teniamo aggiornati, quando le opere di Jacob de Gruyter verranno offerte in una delle nostre prossime aste.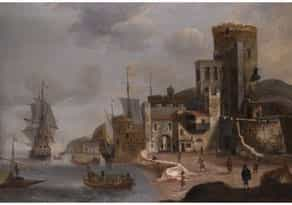 207
Jacob de Gruyter,
tätig bis 1681
SCHIFFE AN HAFENGEBÄUDEN EINER
SÜDLICHEN STADT
Prezzo del catalogo € 18.000 - 20.000 Prezzo del catalogo€ 18.000 - 20.000 $ 17,820 - 19,800
£ 16,200 - 18,000
元 126,359 - 140,400
₽ 1,092,600 - 1,214,000
Öl auf Holz.
72 x 106 cm.
Unten mittig an der alten Hafenmauer signiert und
datiert "1667".


Die rechte Bildhälfte wird eingenommen von der Uferbefestigung einer mittelalterlichen Stadt mit Wehrtürmen und großem Stadttor mit Renaissance-Kartusche. Weiter rechts hohe Gebäude vor großem Rundturm. Im Hintergrund ansteigende Hügel. Links an die Hafenmole heranreichendes Gewässer mit Hochseefregatten, Ruderbooten und kleineren Segelschiffen, jeweils mit Personenstaffage besetzt. Rechts im Vordergrund auf einem Weg, der zum Tor führt, mehrere Personen, darunter Sackträger und Edelmann in spanischer Kleidung. Die großen Schiffe mit gesetzten Segeln, zum Teil unter holländischer Fahne. (691845)

This object has been individually compared to the information in the Art Loss Register data bank and is not registered there as stolen or missing.
Il Vostro Art Agent personale
Volete essere informati quando nelle nostre prossime aste un'opera di Jacob de Gruyter viene offerta? Attivate qui il Vostro Art Agent personale.