Il Vostro Art Agent personale
Volete acquistare un oggetto simile?
Volentieri Vi teniamo aggiornati, quando opere simili verranno offerte in una delle nostre prossime aste.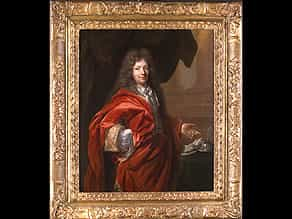 1434
Caspar Netscher
1639 Heidelberg - 1684 Haag
BILDNIS EINES VORNEHMEN HERREN
IN SAMTMANTEL
Prezzo del catalogo € 16.000 - 18.000 Prezzo del catalogo€ 16.000 - 18.000 $ 17,280 - 19,440
£ 14,400 - 16,200
元 119,360 - 134,280
₽ 1,340,160 - 1,507,680
Der Herr nach rechts stehend, in grauer Allongeperükke, weißem spitzenbesetztem Hemd, die Ärmel und das Unterkleid in weißgoldenem Brokat, darüber über die Schulter und den Leib gebauschter roter Samtmantel. Der Blick des Dargestellten gilt dem Betrachter, er steht vor einem olivgrünem zurückgezogenem Vorhang, dahinter hohe Rundsäulen. Rechts neben ihm ein mit grünem Tuch bedeckter Tisch mit Tintenzeug und Feder sowie mehreren gebündelten Briefen, auf die der Dargestellte deutet. Diese Attribute lassen den dargestellten Herren als eine höfische Persönlichkeit im Zusammenhang mit Verwaltung oder Literatur deuten.

Öl auf Leinwand.
52 x 44,5 cm.

Anmerkung:
Rechts unten Reste einer Signatur. Verso auf dem Keilrahmen alter Aufkleber mit Bezeichnung "Katalog 182, Bildnis eines Herren...", Auktion Lepke, Berlin März 1927. Ferner Aufkleber des 18./19. Jahrhunderts mit Inventarnummer "3".
(682325)
This object has been individually compared to the information in the Art Loss Register data bank and is not registered there as stolen or missing.
Il Vostro Art Agent personale
Volete essere informati quando nelle nostre prossime aste un'opera d'arte simile viene offerta? Attivate qui il Vostro Art Agent personale.