Il Vostro Art Agent personale
Volete acquistare un oggetto simile?
Volentieri Vi teniamo aggiornati, quando opere simili verranno offerte in una delle nostre prossime aste.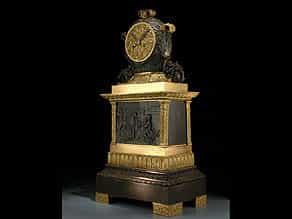 319
Grosse Louis-Philippe-Kaminuhr
in Bronze mit Feuervergoldung
für den russischen Markt
Architektonischer Aufbau in Form eines vierseitig geschlossenen Altars. An den Ecken reliefdekorierte Flachpilaster, Sockelkasten über hohem Eierstabfries mit stehenden Palmetten und breiter ausladendem Rechtecksockel über vergoldeten Stollenfriesen mit Rosettendekoration. An der Front Reliefbild in bräunlich-patinierter Kupferbronze mit antiker Szene. Über dem geraden Gesims Uhrgehäuseaufbau in Form einer geschlossenen Akanthusknospe im Hochoval mit seitlichen Akanthusblüten und nach oben einrollenden vergoldeten Blättern. Die Blütenknospe kupferfarben patiniert, worauf sich das Zifferblatt in Vergoldung effektiv hervorhebt.
Prezzo del catalogo € 5.000 - 8.000 Prezzo del catalogo€ 5.000 - 8.000 $ 5,400 - 8,640
£ 4,500 - 7,200
元 37,300 - 59,680
₽ 418,800 - 670,080
WERK
Acht-Tage-Gehwerk. Pendel mit Fadenaufhängung. Halb- und Stunden-Schlossscheibenschlagwerk.

FUNKTIONEN
Stunden- und Minutenzeiger

ZIFFERBLATT
Mit aufgelegten Flachscheiben, graviert mit römischen Ziffern.

Höhe: 64,5 cm. Breite: 30 cm. Tiefe: 19,5 cm. Frankreich, erstes Drittel 19. Jahrhundert, hergestellt für den russischen Markt. (6714723)
This object has been individually compared to the information in the Art Loss Register data bank and is not registered there as stolen or missing.
Il Vostro Art Agent personale
Volete essere informati quando nelle nostre prossime aste un'opera d'arte simile viene offerta? Attivate qui il Vostro Art Agent personale.