Il Vostro Art Agent personale
Volete acquistare un oggetto simile?
Volentieri Vi teniamo aggiornati, quando opere simili verranno offerte in una delle nostre prossime aste.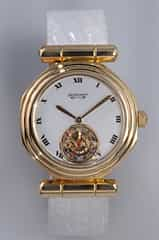 1434
GERALD GENTA
HERRENARMBANDUHR
18 KT GELBGOLD
MIT TOURBILLON
WERK
Automatik. 29 Steine. Rotor Gold. Skelettiert mit
den Emblemen von Gêrald Genta. Tourbillon mit Schraubenglucydurunruh.
Prezzo del catalogo € 50.000 - 60.000 Prezzo del catalogo€ 50.000 - 60.000 $ 49,500 - 59,400
£ 45,000 - 54,000
元 351,000 - 421,200
₽ 3,035,000 - 3,642,000
FUNKTIONEN
Stunden- und Minutenzeiger. Bei der "6" Tourbillon sichtbar, darüber roter Sekundenzeiger.
GEHÄUSE
18 kt Gelbgold. Verschraubter Glasboden. Sechseckige Goldkrone. Beide Gläser Saphirglas.

ZIFFERBLATT
Emailzifferblatt mit schwarzen römischen Ziffern. Unter der "12" signiert "Gerald Genta".

BAND
Original weißes Reptilband mit 18 Kt doppelter Faltschließe.

ZUSTAND
Neuwertig.

Schweiz, um 2000.
Mit originalem Etui.
(662211)
This object has been individually compared to the information in the Art Loss Register data bank and is not registered there as stolen or missing.
Il Vostro Art Agent personale
Volete essere informati quando nelle nostre prossime aste un'opera d'arte simile viene offerta? Attivate qui il Vostro Art Agent personale.