Il Vostro Art Agent personale
Volete acquistare un oggetto simile?
Volentieri Vi teniamo aggiornati, quando opere simili verranno offerte in una delle nostre prossime aste.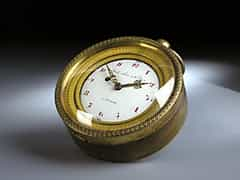 1384
SCHWEIZER KAROSSENUHR
DES 18. JAHRHUNDERTS
WERK
Eintagegehwerk mit Kette und Schnecke. Französische Unruhbrücke mit Spindelhemmung. Rückplatine signiert "Jacob Louis Nicoled à St. Jemeer". Viertel-Repetitionsschlagwerk. Auslösung mit Faden, mit zwei Hämmern auf Glocke.
Prezzo del catalogo € 4.000 - 4.500 Prezzo del catalogo€ 4.000 - 4.500 $ 4,200 - 4,725
£ 3,600 - 4,050
元 30,720 - 34,560
₽ 407,760 - 458,730
GEHÄUSE
Zylinderförmiges Messinggehäuse. Feuervergoldet. Mit bekrönendem Knauf und rundem Hängering. Zifferblatteinfassung mit vergoldetem Lanzettblattdekor sowie Sternenband.

ZIFFERBLATT
Weißes Emailzifferblatt mit arabischen Stunden- und arabischen Viertelstundenangaben. Die Stundenziffern in Rot. Auf dem Zifferblatt signiert "Jacob Louis Nicoled à St. Jemeer".

Durchmesser: 12,5 cm. Tiefe: 7 cm.
Schweiz, Ende 18. Jahrhundert / um 1800.

Literatur:
N.A.G. Bress, Watchmakers and Clockmakers of the world, S. 233. (6621211)
This object has been individually compared to the information in the Art Loss Register data bank and is not registered there as stolen or missing.
Il Vostro Art Agent personale
Volete essere informati quando nelle nostre prossime aste un'opera d'arte simile viene offerta? Attivate qui il Vostro Art Agent personale.