Aste

Asta generale di oggetti d'arte
Il Vostro Art Agent personale
Volete acquistare un oggetto simile?
Volentieri Vi teniamo aggiornati, quando opere simili verranno offerte in una delle nostre prossime aste.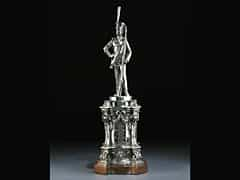 841
Berliner Silberstatuette eines Garde Offiziers
von dem Berliner Silberschmied Vollgold.
Standfigur in Silber ausgeführt, Sockel in versilbertem Kupfer.
Prezzo del catalogo € 14.800 - 16.000 Prezzo del catalogo€ 14.800 - 16.000 $ 14,652 - 15,840
£ 13,320 - 14,400
元 103,896 - 112,320
₽ 898,360 - 971,200
Höhe 39 cm.
Stempelmarken und 800er Silberstempel.

Anmerkung:
Bei dem Gardeoffizier handelt es sich um Burkhard Freiherr von Esebeck (geb. 1854 Berlin) Der Dargestellte in Uniform, als Offizier des 2. Garde-Regiments zu Fuß, als Standfigur gearbeitet, mit Gewehr, die rechte Hand an der Hüfte. Plinthe über einem hohen Sockel mit vierfach hochziehenden Lisenen, mit Voluten- und Festondekor sowie gravierten Kartuschen mit den Inschriften: "Dem Major Frhr. v. Esebeck . 1890-1898-1899-1905" auf den weiteren Sockelleisten die Inschriften: "Zweites Garde-Regiment zu Fuß. 19. Juni 1813/14 Obergraupen-Leipzig-Paris" - "1866 Königinhof- - Soor - Königgrätz",sowie "1870/71 . St. Privat la montagne. Sedan. Paris". Lit.: Stammliste des Offizierskorps des 2.Garde-Regiments zu Fuß 19.6.1813 - 15.5.1913, Auf Befehl des Regiments zusammengestellt von Frh. v. Bock, Berlin 1913 Verlag R. Eisenschmidt. (6614513)
This object has been individually compared to the information in the Art Loss Register data bank and is not registered there as stolen or missing.
Il Vostro Art Agent personale
Volete essere informati quando nelle nostre prossime aste un'opera d'arte simile viene offerta? Attivate qui il Vostro Art Agent personale.